I don't know about you but when I am travelling or on vacation one of the first things I ensure I am familiar with is the best coffee shops in the area!
When I am what I call "pre-coffee" in the morning, it's not good – I can't function without some delicious caffeine.
However, it can't just be any dark-roasted carelessly brewed junk. I'm after the finest single-origin beans, lovingly brewed into something delicious to enjoy (for me that will typically include some beautifully steamed milk – flat white is my go-to!).
Fortunately, my beloved London has an absolute abundance of incredible coffee spots with some of the most passionate baristas I have come across in the world.
Here are a few must-visit spots due to their amazing coffee, amazing staff, and impeccable vibes:
Watchhouse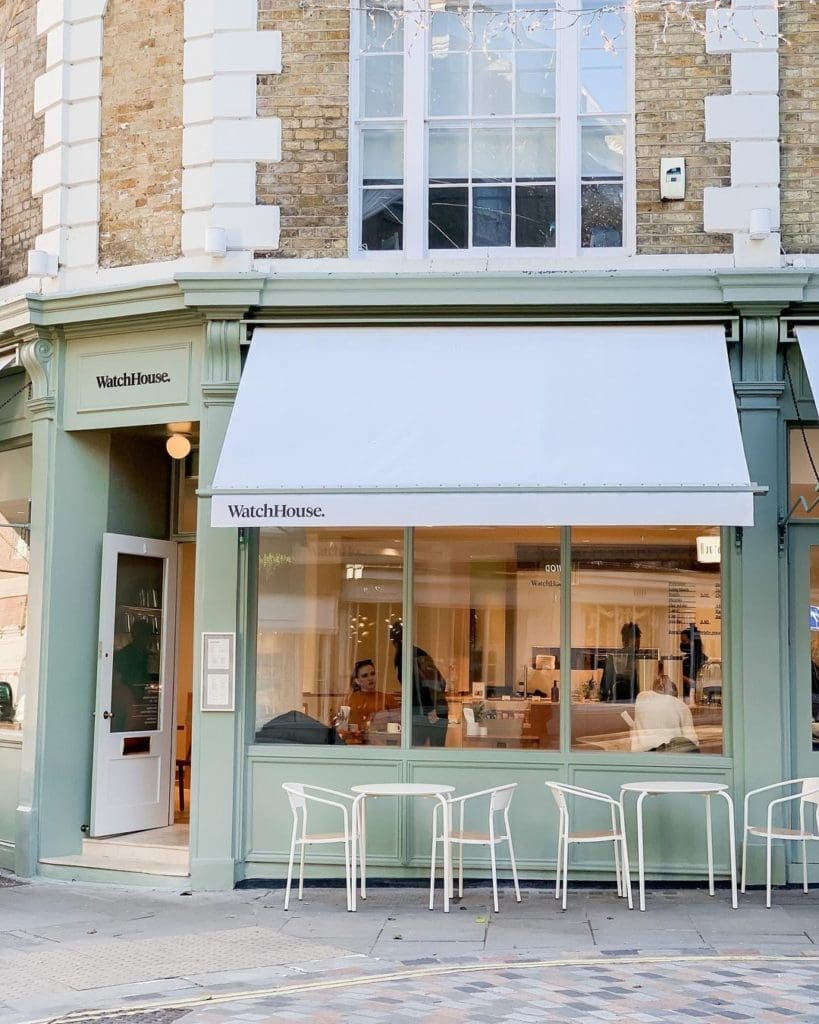 In the past year or so Watchhouse has fast become my absolute favourite coffee spot (and roastery) in London.
I've never tasted such delicious, exotic, and expertly brewed coffee (and trust me, I have tasted a LOT of coffee in my life!).
Not only is Watchhouse the first place I will go to for coffee when I visit London, I also buy their beans and Nespresso-compatible pods for my home and office setups!
Watchhouse have a number of coffee shops dotted around London including; Marylebone, Hanover, Covent Garden, Seven Dials, Bishopsgate, Spitalfields, Tower Bridge, Fetter Lane, Bermondsey, and more seemingly popping up all the time!
That said, my favourite spot is the Covent Garden location. Perhaps it's due to the fact it was the first Watchhouse I ever visited, or perhaps it's because I once spotted British TV legend, Gok Wan and his dog in there one morning. Either way, if you're in the area it's worth a visit!
As well as incredible espresso-based drinks, Watchhouse offer expertly brewed pour-over coffees which vary almost every time I visit. This is due to the fact that they buy and roast single-origin micro-lots. Because of this I highly recommend you have a pour-over when you visit, even if you are not normally someone who drinks black coffee. I am certain you will find the experience nothing short of mind-blowing.
The Attendant, Fitzrovia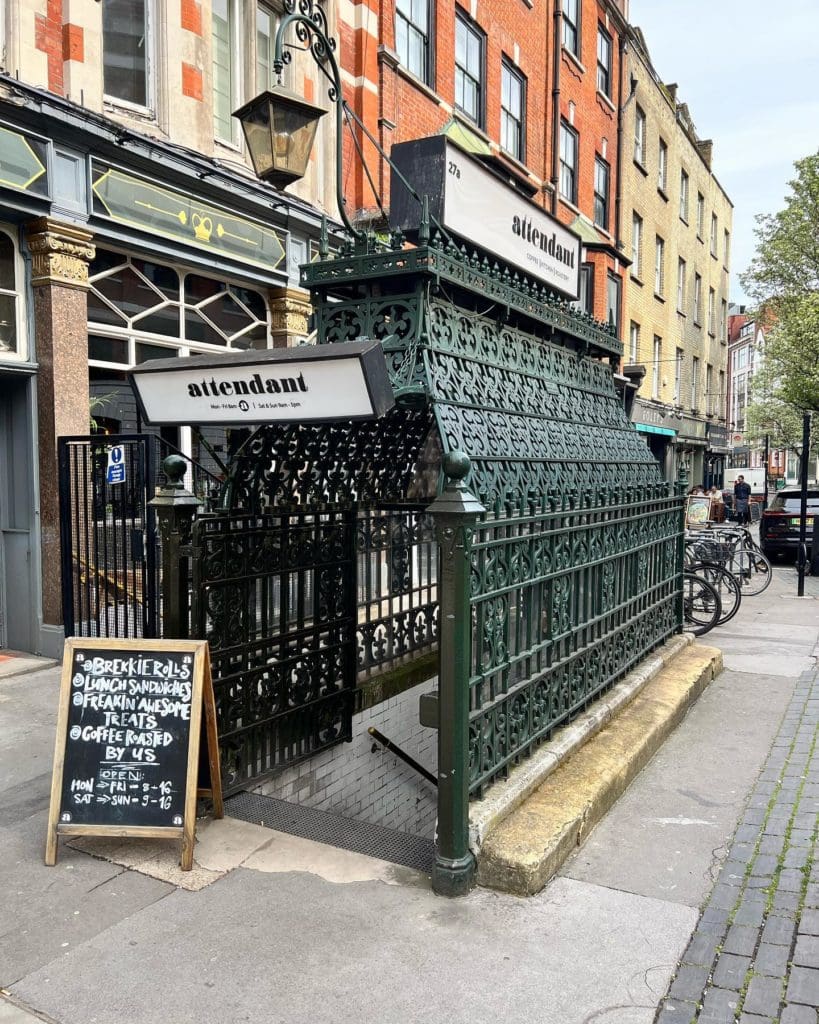 Ever sat in a urinal to drink a coffee?
No? Well – don't you think it's time we changed that?
This coffee spot is full of character, mainly due to the fact it is located in an ex-victorian public toilet – complete with many of the original features!
It's somewhere I recommend you add to your list of spots to visit in London – and it's not just the novelty of the location, the coffee is really good too!
Expertly prepared and lovingly brewed – there are also some great food options if you want a quick breakfast or tasty snack during your mid-morning pit stop.
It's not the largest venue, so be prepared to wait a few minutes for a seat at busy times.
ARABICA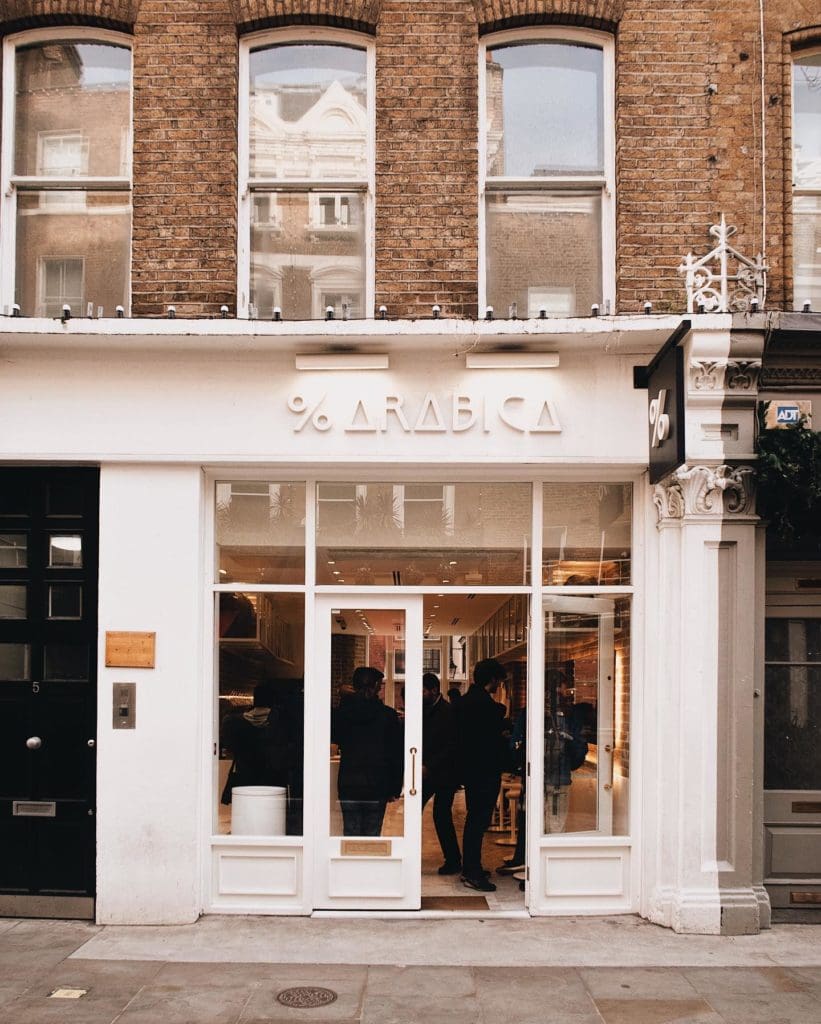 ARABICA is a fantastic spot right in the thick of the action in Covent Garden. It's definitely more of a "drink and go" or takeaway kind of spot, but conveniently located and absolutely delicious.
Got a sweet tooth? Well, this is the spot for you.
Ever heard of a "Spanish Latte"?
Well – it's a latte with the addition of condensed milk, giving a sweeter and creamier drink. ARABICA serve this both hot and cold – so I always treat myself to one of these when I am travelling in London, whatever the weather!
Kiss the Hippo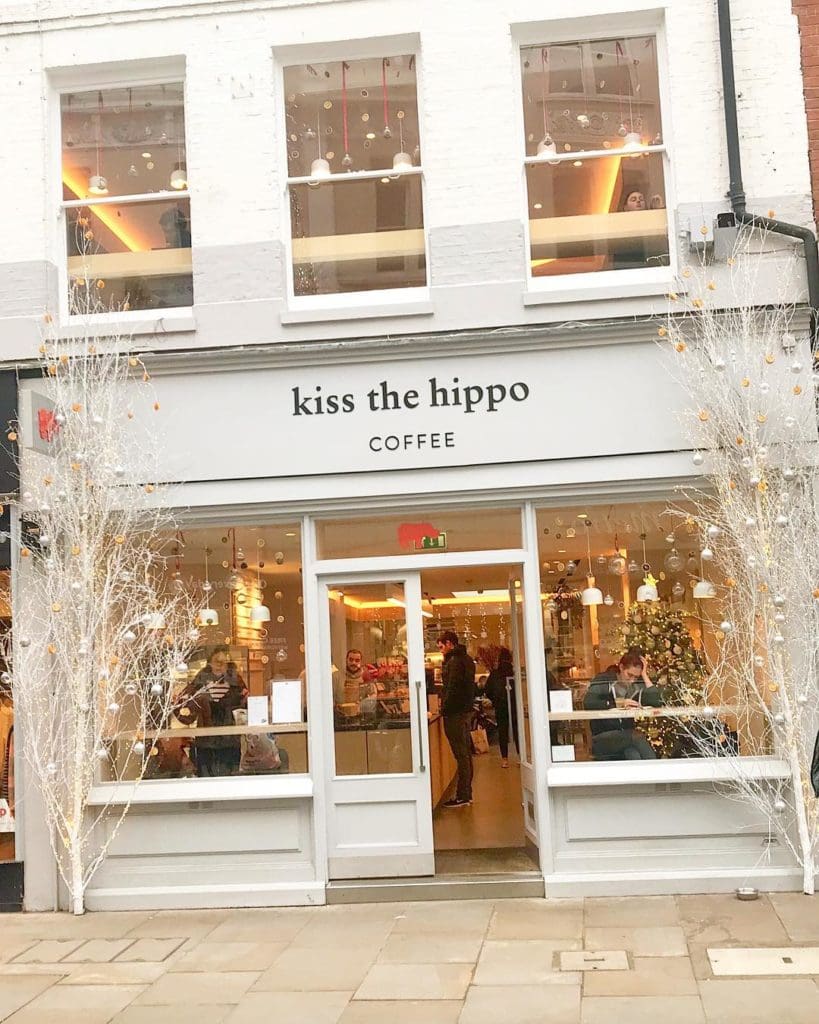 Boasting a number of locations around the city, Kiss the Hippo is another favourite of mine for a quick coffee.
Their cafes are clean, minimalistic, and they brew fantastic coffee! This is certainly helped by the fact that they have their own roastery and roast their own beans – with some fantastic seasonal single-origin options available.
Kiss the Hippo have cafes in Fitzrovia, Richmond, King's Cross, and Shoreditch.
Find the Best Coffee Shops Near You in London
This guide is very much my favourite spots in London, but it's certainly not extensive!
London is a big city with an absolutely incredible coffee culture.
When it comes to finding the best coffee spots near my current location, whether it's in London or in fact, any major city in Europe, I always turn to an app called "European Coffee Trip".
It's a curation of the very best coffee spots and it's never let me down! It's available on both iPhone and Android.
Anything Missing?
Is there an incredible London coffee spot that's missing from this guide? Get in touch and let us know!