London, one of the greatest cities in the world for food and travel, has a fantastic and thriving Chinatown.
Some may see it as a tourist trap, and sure, there are some overpriced and underwhelming locations – but follow this guide from a local, and you will unearth some of the most delicious gems that Chinatown London has to offer!
One of the most satisfying things to do in Chinatown is wander the bustling streets, picking up street food snacks along the way, and literally eating your way through Chinatown.
The following is a list of the best snacks you can get in Chinatown London. You've got to try them all!
Taiwanese Fried Chicken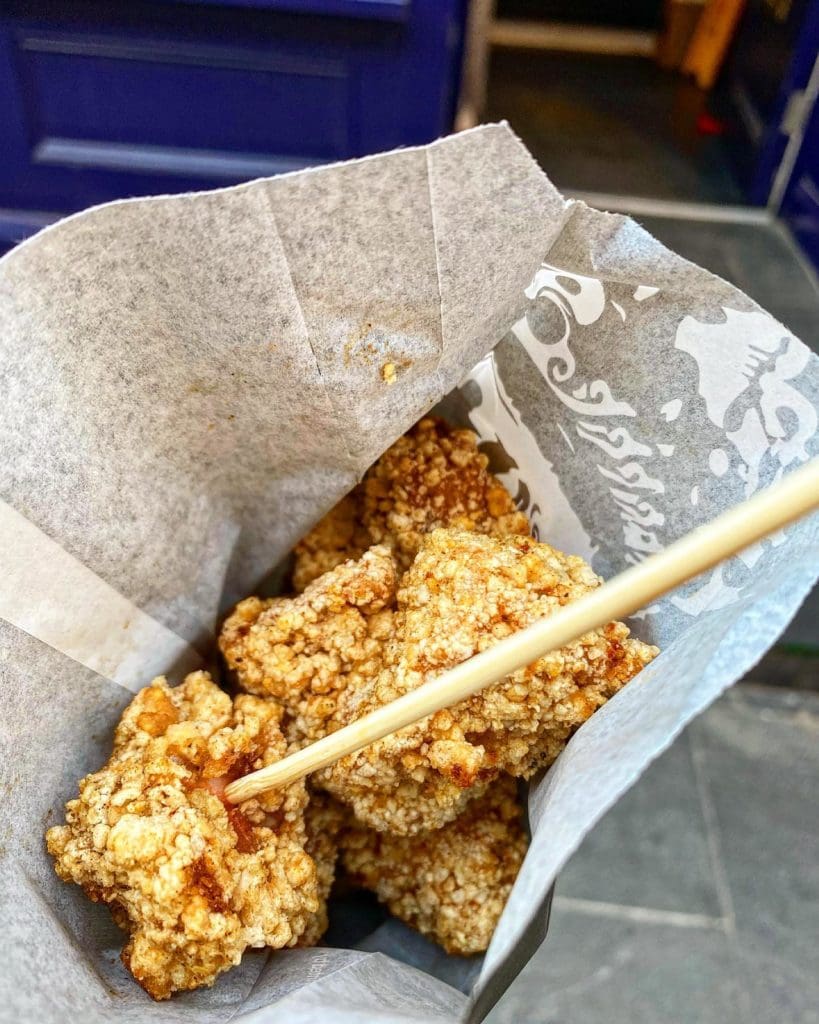 Fried chicken is fried chicken, right? WRONG!
If you haven't tasted the incredibly unique flavour of Taiwanese fried chicken, I can guarantee you've never had anything like it.
The sweet and savoury flavour bomb that Taiwanese fried chicken delivers really is like nothing else I've experienced. You've got to try it!
Fortunately, there are a number of places in Chinatown London that serve super authentic Taiwanese fried chicken.
My favourite is a spot called Monga on Macclesfield Street. It's super authentic (and I would know as I have travelled Taiwan extensively!) and delicious.
When it comes to Taiwanese fried chicken there are two ways that it is mainly served: either as "popcorn chicken" or as a huge "chicken fillet".
The popcorn chicken is what I often opt for. Generally, this is served in a paper bag with a few skewers for picking up the juicy chicken pieces. I love getting this version as it's easy to eat on the go and is perfect for sharing!
The other popular serving, the fillet, is definitely something to behold. This is typically a piece of boneless chicken which is flattened and so will be fried, seasoned, and served as a whole piece – normally it will be as big as your face!
A little hack that one of my London foodie friends, KS, recommends is to buy a fillet, then go to a Chinese bakery and buy a Pineapple Bun, and make a chicken sandwich!
My favourite spot: Monga Fried Chicken, 12 Macclesfield Street, London W1D 5BP
Bao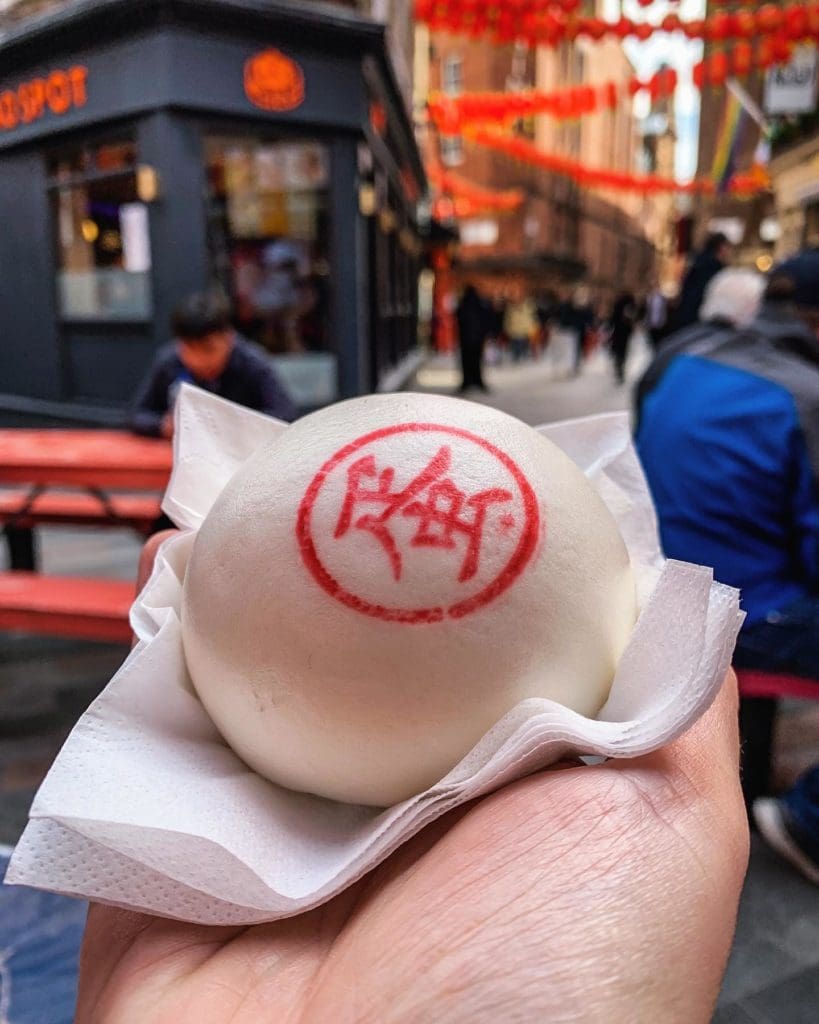 What could be better than a light and fluffy steamed bun stuffed with a delicious and decadent filling?
A bao is a perfect snack for wandering the streets of Chinatown in London. Whether you opt for sticky BBQ pork, a delicate salted duck egg custard filling, or a traditional red bean paste filling.
There are a number of bakeries and restaurants serving up plump, fluffy baos in Chinatown, but my absolute favourite spot for this treat has got to be Bunhouse.
Bunhouse has the most delicious selection of steamed buns to suit all palates, whether you're a meat eater, veggie, or have a sweet tooth – there's something for all travellers!
Their big steamers and hand-stamped bao buns really are a sight to behold and a flavour sensation!
My favourite spot: Bun House, 26-27 Lisle Street, London, WC2H 7BA
Egg Custard Tart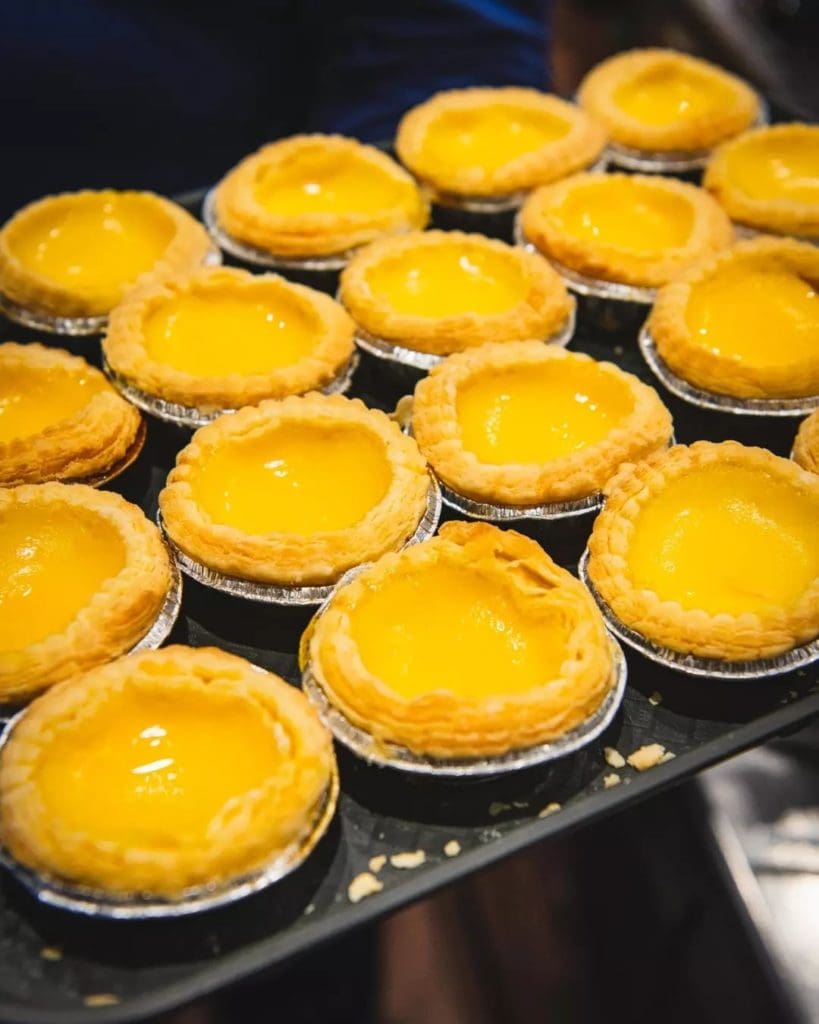 If you have never experienced a silky-smooth Chinese egg-custard tart, a Chinatown London food tour is most certainly your opportunity!
Chinatown in London is full of incredible Chinese bakeries and this will be your best bet if you are wanting to grab an egg custard tart for the road.
Of course, it must be said that egg custard tarts play quite a key part in a "Dim Sum" meal, of which there are many fantastic places in Chinatown to enjoy (my favourite is Imperial China on Lisle Street if you want a recommendation!).
As mentioned, any bakery in Chinatown is going to serve up a great egg custard tart, but one of my favourites is Kowloon Bakery on Gerrard Street. Another bakery serving up great egg custard tarts (which features later on in this guide) is Chinatown Bakery in Newport Place. Regardless, if it's a bakery in Chinatown and it's busy with Chinese folks, you can't go wrong!
My favourite spot: Kowloon Bakery, 21-22 Gerrard Street, London, W1D 6JH
Boba (Bubble Tea)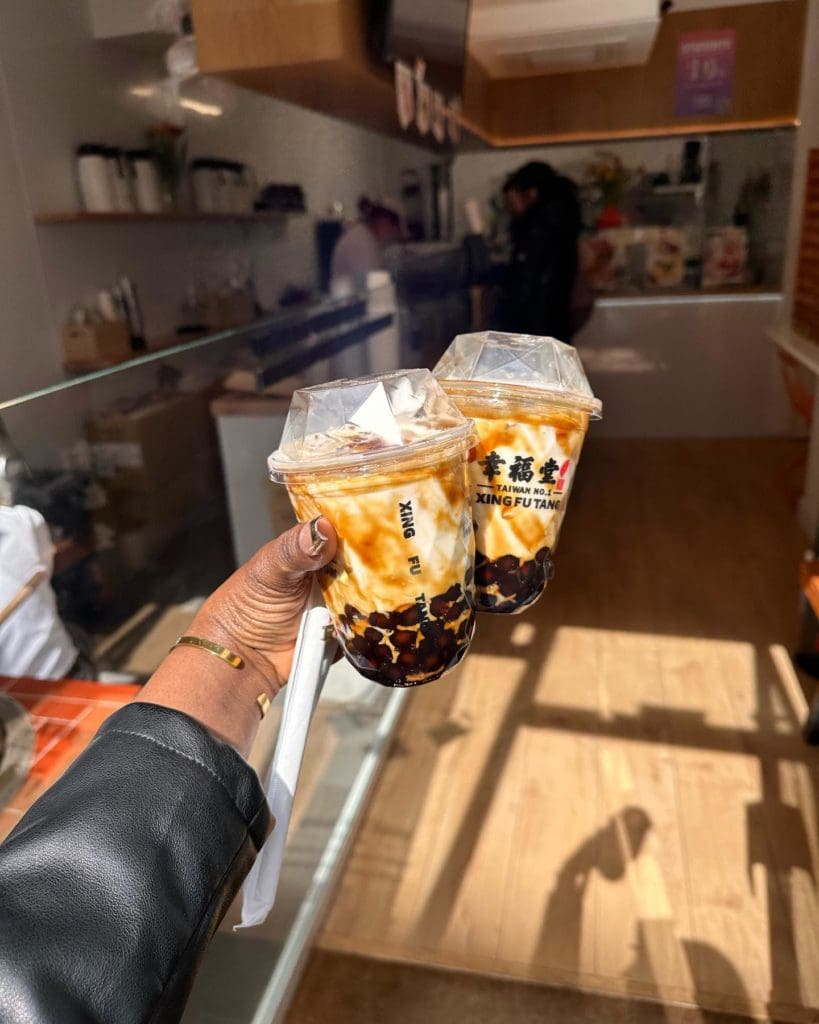 Boba or Bubble Tea seems like quite the cultural phenomenon! It's become hugely popular in the UK over the past couple of years and many places have popped up in and around Chinatown.
There are a few spots that I like to get bubble tea from – my favourite is actually just outside of Chinatown, but worth mentioning for its authentic and truly delicious Taiwanese bubble tea. The spot is called Xing Fu Tang and is located on Frith Street in Soho, just the other side of Shaftesbury Avenue from Chinatown. What's great about this spot is that they make their tapioca pearls and brown sugar syrup in the window using a big copper pot – it's super pretty and fun to watch! They are often sold out, but if they have the Rose Gold Leaf Bubble Tea available…try it! It's very tasty and super Instagramable!
If I am looking for something equally as decadent but within Chinatown then Monga (mentioned above for their Taiwanese Fried Chicken) is also a great spot for really cool-looking and delicious bubble teas.
Your "traditional" bubble tea is based around brown sugar tapioca balls in a sweet milk tea, however, many varieties of the theme exist, including more fruity drinks with "bursting" bubbles with a fruity gel inside. If you want somewhere friendly with a bit more variety then head over to Cuppacha in Newport Court. This spot tends to get busy at peak times, so be prepared to queue for a few minutes!
My favourite spot: Xing Fu Tang, 29 Frith Street, London, W1D 5LG
Taiyaki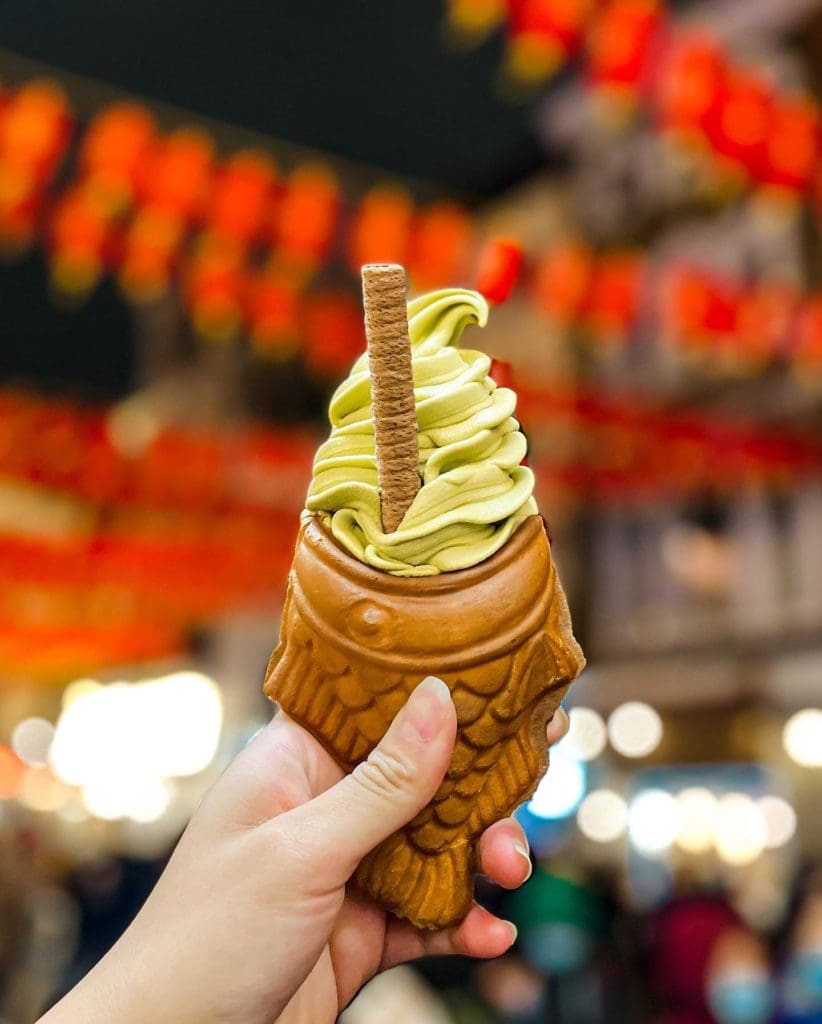 Taiyaki is one of the most fun things to buy and eat in Chinatown! There are a couple of bakeries that make them in the window using cool little machines with cast iron moulds. It's kind of mesmerising to watch, and really lovely to know how fresh these delightful little treats are when you are snacking on them around Chinatown!
I love the cute little ones that are made in the bakery window, they are spongy and fluffy on the outside with a gooey almost custardy centre. It's easy to buy a bag and share them with your companions whilst exploring Chinatown. There are also large Taiyaki which are often used in place of an ice cream cone for serving soft serve ice cream – if you're into your ice cream, this is the Taiyaki to go for!
Chinatown Bakery in Newport Place is the spot where I generally like to go for Taiyaki. They make the little ones fresh in the window and usually have a couple of different soft serve flavours available for the larger "ice cream cone" style Taiyaki.
My favourite spot: Chinatown Bakery, 7 Newport Place, London, WC2H 7JR
Soft Serve Ice Cream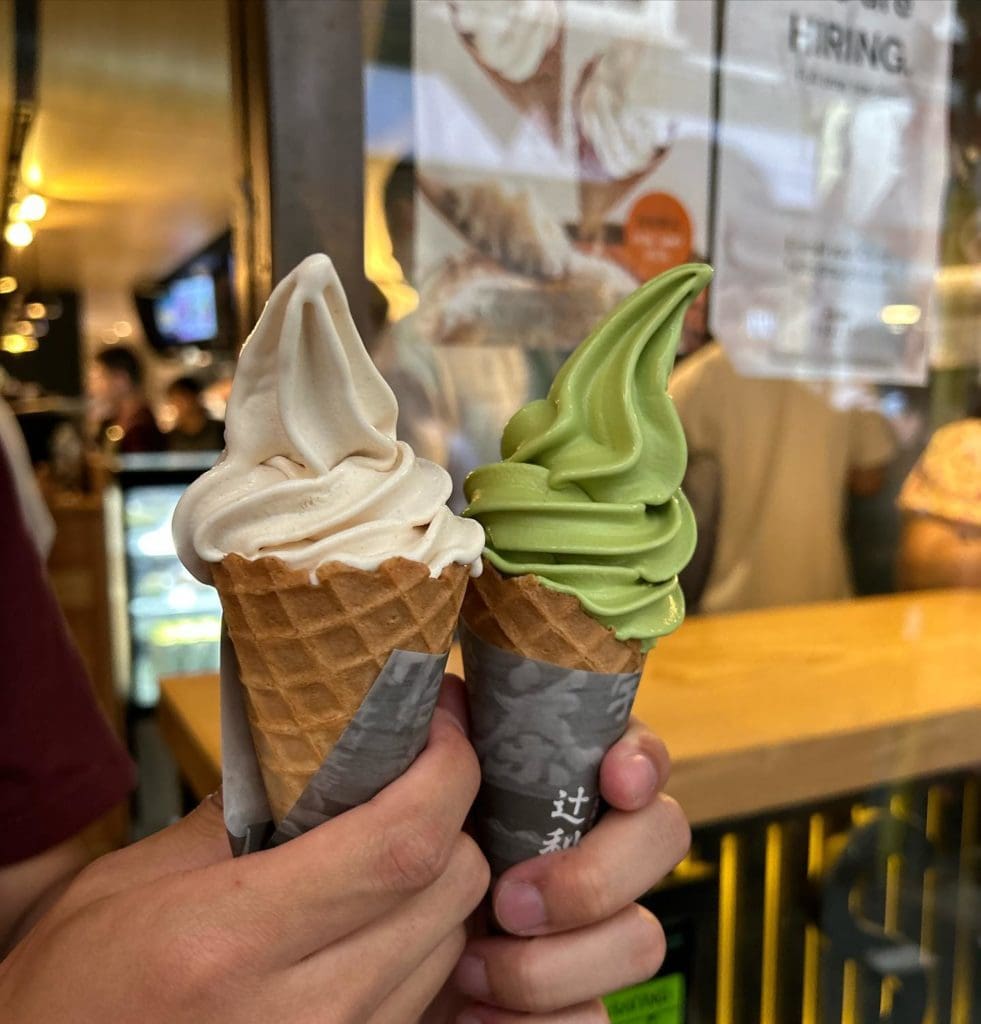 Soft-serve ice cream in the UK can be a little…vanilla…but spots in Chinatown mix this up with some interesting flavours and frankly beautiful-looking treats.
There are a few locations to get your soft-serve fix, including the various Taiyaki spots mentioned above.
One extremely popular location is TSUJIRI in Newport Court which offers a number of different soft-serve flavours and stunning-looking sundaes. Keep your eye out for their seasonal specials because, they have some cracking limited edition flavours which are always a crowd-pleaser!
The perfect after-dinner, or post-snack-crawl treat as you wander the streets of Chinatown!
My favourite spot: TSUJIRI, 33 Newport Court, London, WC2H 7PQ
Anything Missing?
Feel like there is a snack missing from this London Chinatown snack guide? Get in touch and let us know!