We love the foodie scene in Toronto and the Greater Toronto Area. It's vibrant and diverse and there's always something amazing to eat.
Eating Halal can always make things a little tricky though. Restaurants don't always make it obvious if their meat has been raised and slaughtered according to halal standards.
That's why we put this guide together. We wanted to ensure you could find the best places in Toronto to eat halal food. All without having to click around or research too hard.
Bookmark this page and keep checking back. We'll always update it to include the latest halal discoveries.
Eating Halal in Toronto
We're sure for most people reading this article that a definition of halal isn't needed. But, just in case here's a quick rundown of what we mean when we say halal.
Halal means "permissible" in Arabic.
Halal food is meat (and certain birds) raised and slaughtered according to a set of principles. This ensures the animal has eaten a good diet, lived a healthy life and has been slaughtered humanely.
A Halal practitioner will be on-site throughout the slaughter. They will recite a blessing. This blessing is either the Shahada (an Islamic prayer) or the Tasmiyah.
So, without further ado, here's our pick of the top 10 halal places to eat in Toronto (as a foodie).
1. Paramount Fine Foods Inc.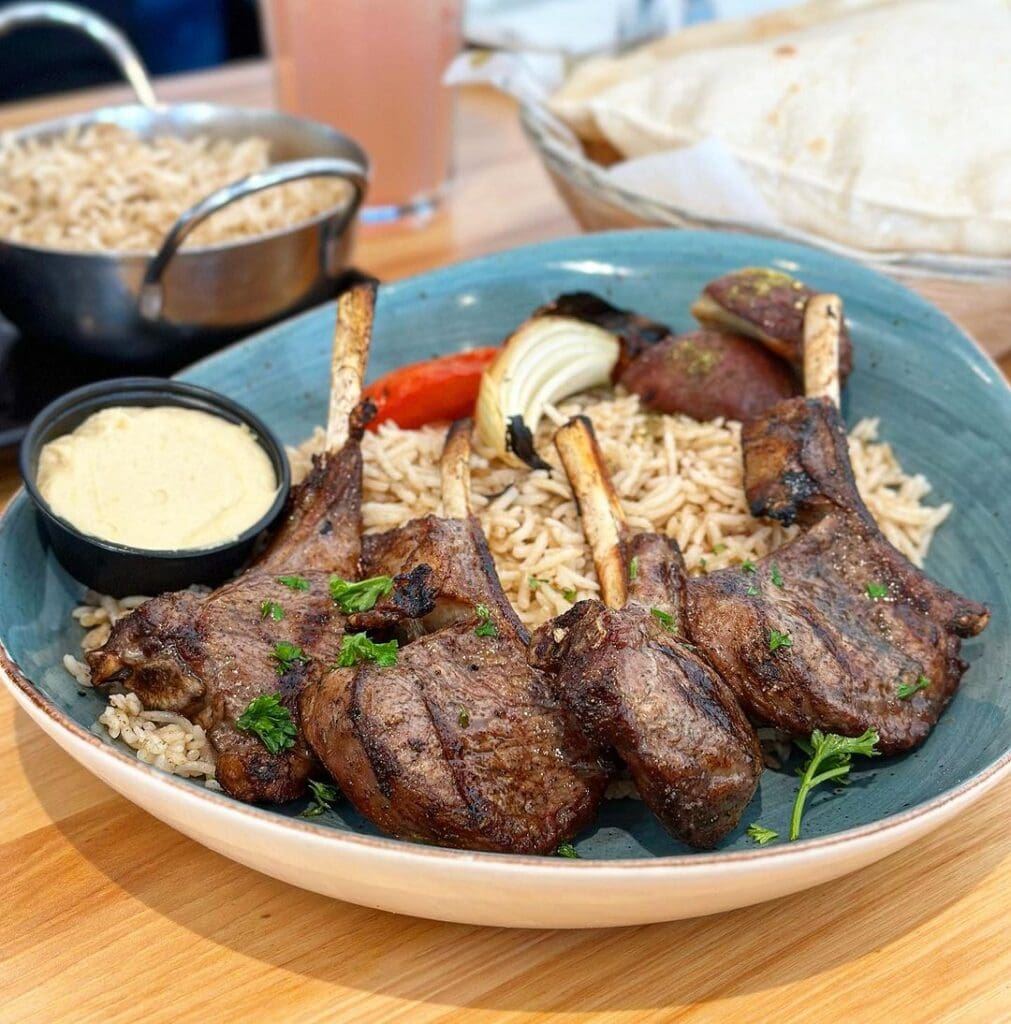 These guys are absolute legends when it comes to halal food. They've got many restaurants across Toronto (and worldwide). Their speciality is both Lebanese and Middle Eastern food.
Whenever we look at their menus, we instantly salivate. The dishes that speak our love language here at Taste: Travel Obsession are:
1. Cheesy Beef Shawarma Boat – Sort of like a pie with incredible spiced beef and mozzarella cheese (what's not to like)
2. Lamb Chops – you get a generous portion and the veg is charcoal-cooked
3. Mixed BBQ platter – loads of tasty meats cooked over charcoal for a super rich, smoky flavour (yes please)
Location: Locations all over Toronto
Website: Paramountfinefoods.com
Instagram: @paramountfinefoodsofficial
2. Karahi Boys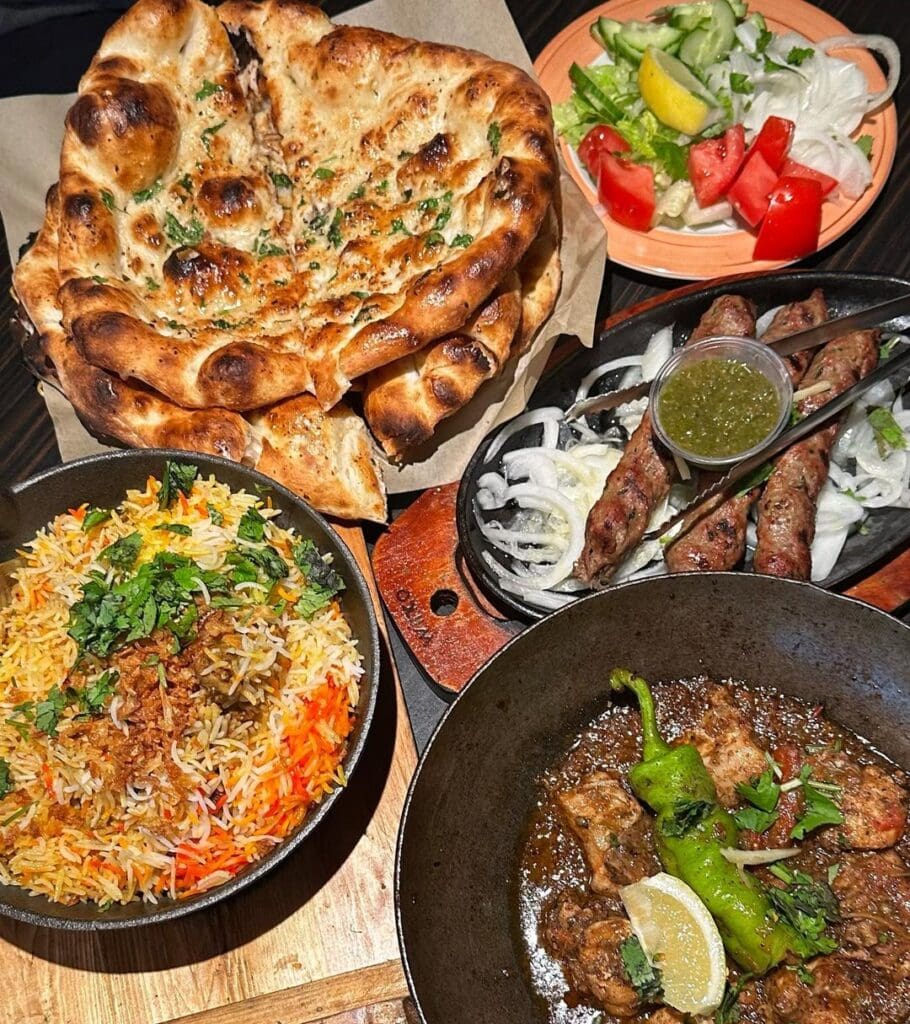 If you're not familiar with Pakistani food, you've been missing out. As the name might suggest, the Karahi boys specialise in a traditional Pakistani dish known as Karahi.
In a nutshell, Karahi is a cooking pot similar to a wok. A variety of meats and cheese curds (paneer) can be cooked in this style. What we love about the Karahi Boys is that they serve their Karahi in the same pot it was cooked in directly to your table. It introduces some theatrics to your experience. Their naan breads are some of the freshest we've ever tasted and they are the size of your head!
We're having obsessive thoughts about the following menu items:
1. Beef Nihari – slow cooked to a super tender level, this smells and tastes incredible. It goes so well with a naan too to mop up every last drop
2. Behari Boti Karahi – Tandoor cooked beef finished off in a sizzling hot karahi with peppers, onions and aromatics
3. Potohari Goat Karahi – Deeply fragrant goat dish made with methi (fenugreek)
Location: Karahi Boys – Queen St W741, Queen St W, Toronto
Website: Karahiboys.com
Instagram: @karahiboys
3. Diwan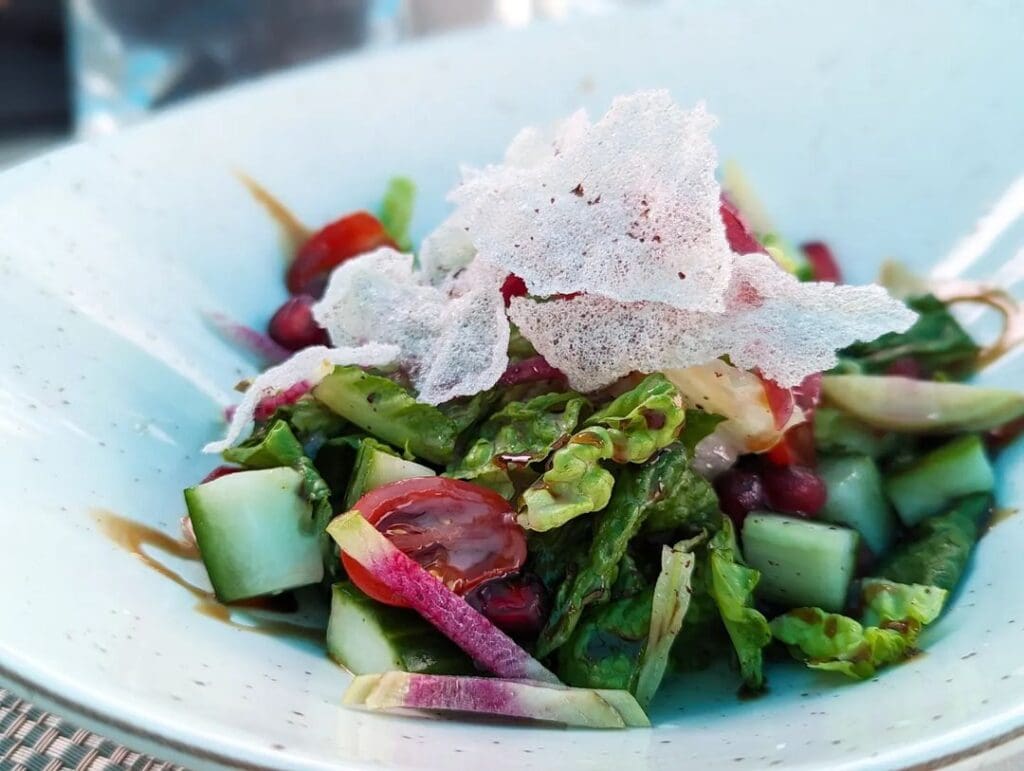 If you've never been to the Aga Khan Museum in North York (closer to East), you ought to add it to your bucket list. A fabulous collection of exhibitions centred on arts and culture. The spotlight is shined on the Ismaili culture here too.
That's why their restaurant Diwan makes this list. A beautiful environment and incredible traditional dishes make this the perfect place to eat halal food.
We're drooling over the following menu items:
1. Green Harissa Shrimp Kebab – With Sabzi rice, Shirazi Salad and a honey and lime dressing (sexy)
2. Chicken Biryani – This speaks to our souls
3. Seared Trout – With Lebanese potatoes, brown butter broccolini and olive pomegranate salsa
Location: Aga Khan Museum, 77 Wynford Dr, North York, ON M3C 1K1, Canada
Website: Agakhanmuseum.org
Instagram: @diwanrestaurantto
4. The Halal Guys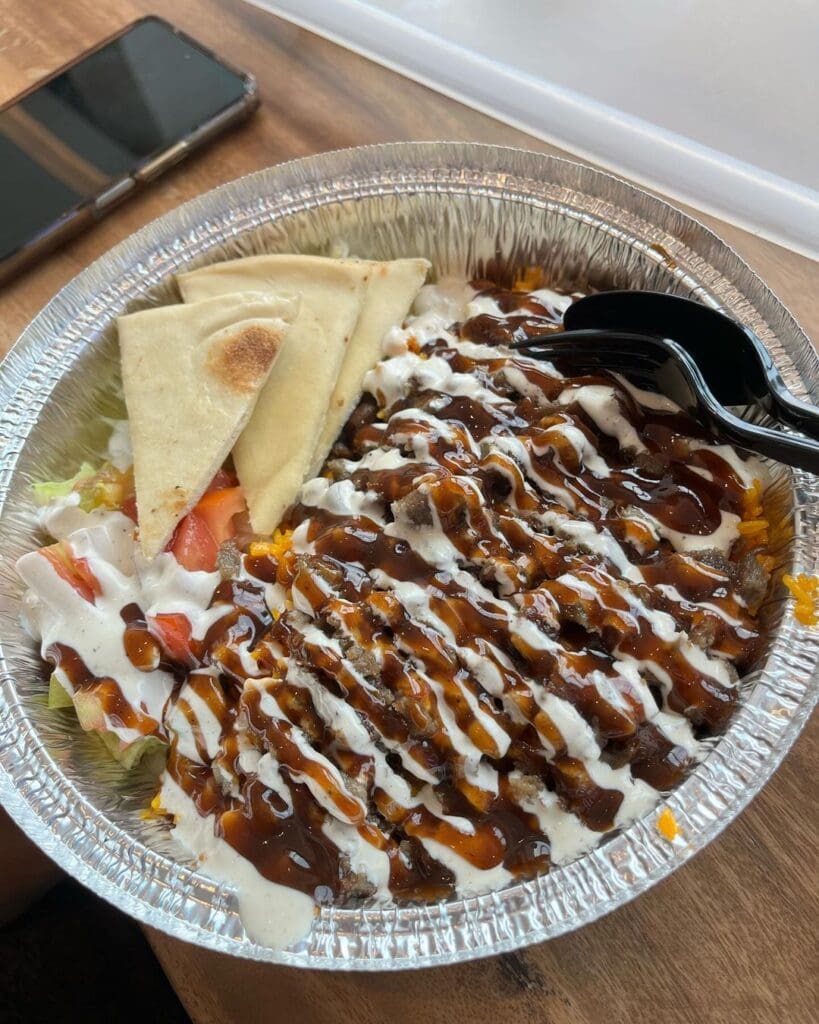 If fast food is what you're craving, these guys are the absolute best. With a name like The Halal Guys, you know you can't go wrong.
The Halal Guys started life in the US but have rapidly expanded worldwide.
Their main gig is an American take on popular Mediterranean dishes like gyros. We're particularly into the following menu items:
1. Beef Gyro Platter – Beef, rice, veg and delish sauces
2. Falafel Sandwich – More of a wrap if you ask us. Delicious and crisp falafel with fresh salad
3. Baklava Cheesecake – If the name alone doesn't make you say 'ooooh' we don't know what will
Location: 563 Yonge St, Toronto, ON M4Y 1Z2, Canada
Website: Thehalalguys.com
Instagram: @thehalalguys
5. Scotty Bons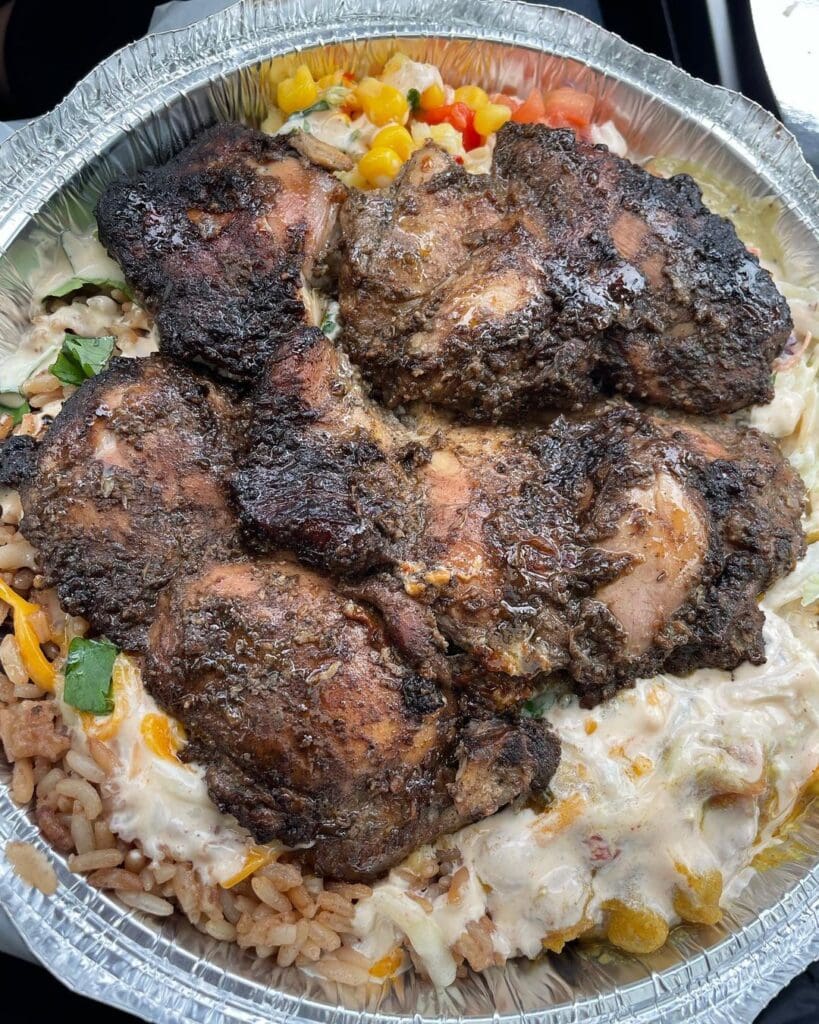 Proper, soulful Carribean food in the heart of Toronto with everything on the menu (bar the beef patties) being halal.
Their menu is jam-packed with stuff you'll want to try and their prices are super reasonable too. We're in LOVE with the following menu items:
1. Jerk Shrimp Bowl – a bowl full of fresh and spicy shrimp with rice and veg (perfection)
2. Curry Goat Roti – classic flavour wrapped up in spectacular flatbread, yum
3. Cajun fish Sandwich – this one's a must-try
Location: 402 Bloor Street West, Toronto, ON M5S1X5
Website: Scottybons.com
Instagram: @scottybonsgrill
6. Chain Smoker BBQ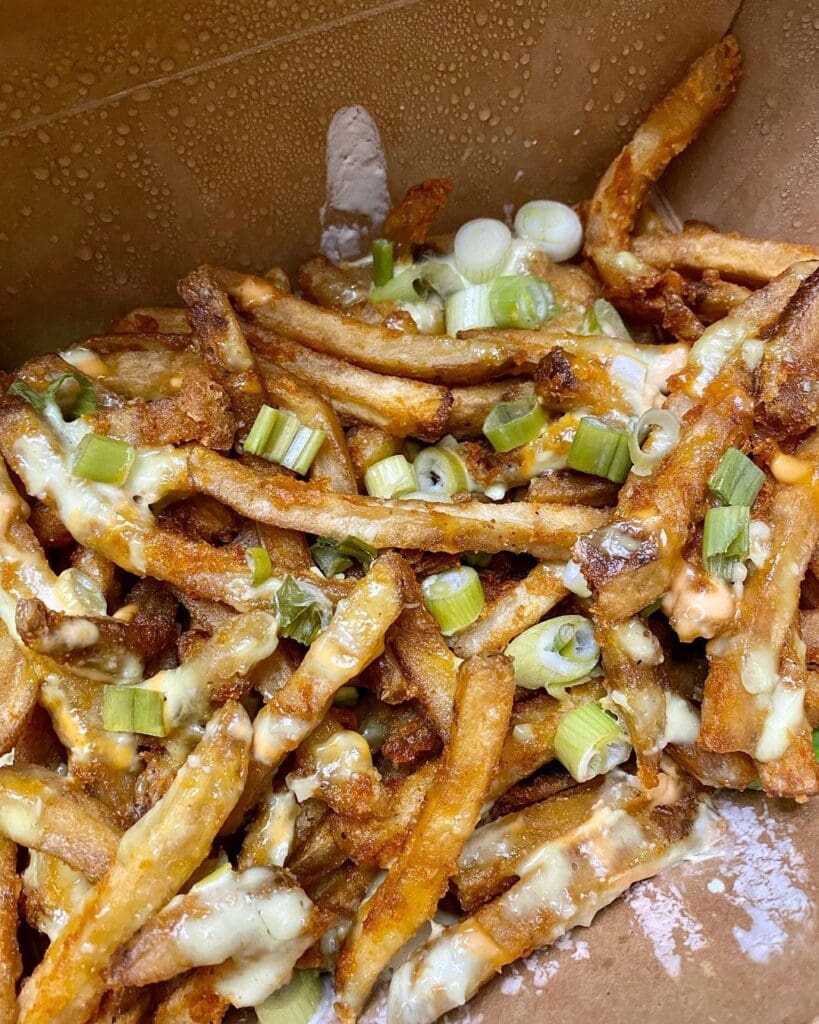 Sometimes in life, nothing else will satisfy except a loaded plate of properly smoked meats. We don't know why, but it is SUCH a mood.
It was such a joy when we realised this incredible smokehouse was also halal. So many BBQ joints have pork on the menu. It makes them a tricky place to be if you eat halal – why can't more places adopt the Chain Smoker BBQ approach?
If we were to put in an order, it would include:
1. Smoked "Triple A" Beef Brisket – such a classic
2. Jerk Chicken Sandwich – spicy = nicey
3. Cajun Hushpuppies – sweetcorn balls with aioli oh boy
Location: 5555 Eglinton Ave W Unit E112, Etobicoke, ON M9C 5M1, Canada
Website: chainsmoker.ca
Instagram: @chainsmoker.bbq
7. Sarang Kitchen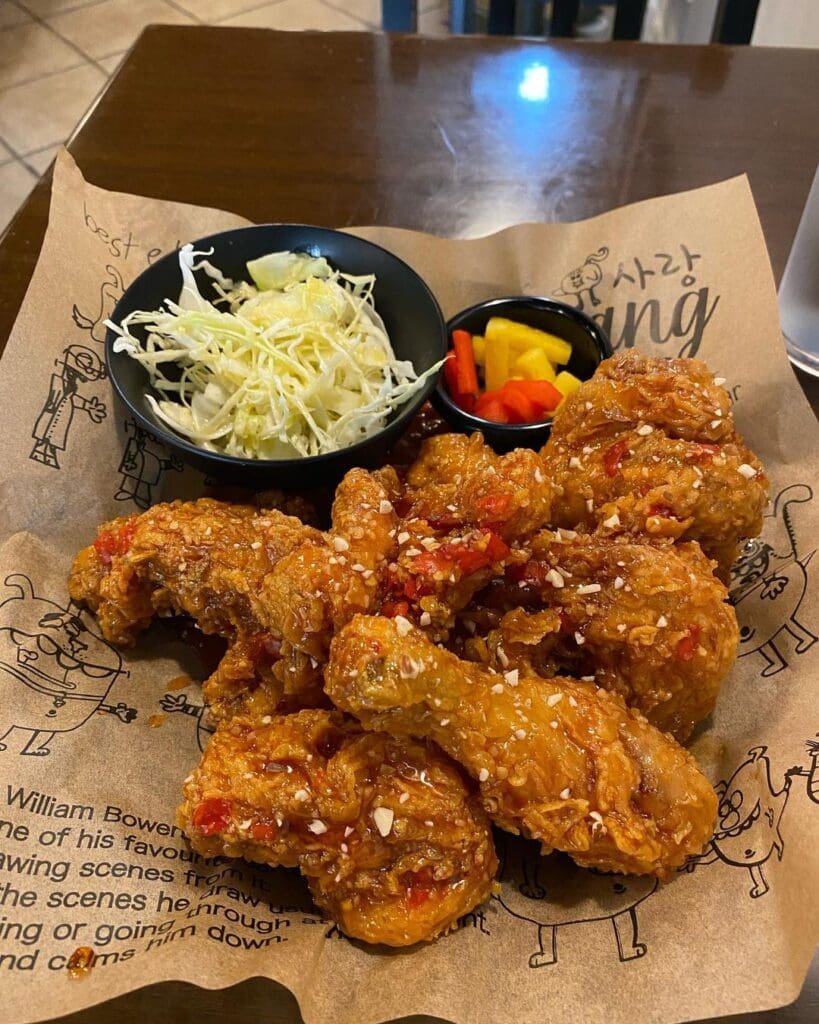 Right off the bat, it's worth mentioning that only the chicken here is Halal. But their chicken is the reason to list these guys in this article. Sarang specialises in Korean Fried Chicken and it's delightful.
Sarang Kitchen also happens to be a restaurant with a purpose. They have an anti-tipping policy and believe in paying a fair and equitable wage. They also have a sensory room with weighted blankets.
We're mad about their:
1. Sweet As – A sweet and savoury Korean Fried Chicken Platter
2. Choice Bro – Their own fermented soy sauce and garlic Korean Fried Chicken
3. Good as Gold – Korean Fried Chicken with aromatic truffle oil
Location: 1056 Bloor Street West, Toronto, Ontario M6H 1M3, Canada
Website: Sarangkitchen.ca
Instagram: @sarangkitchento
8. Plan B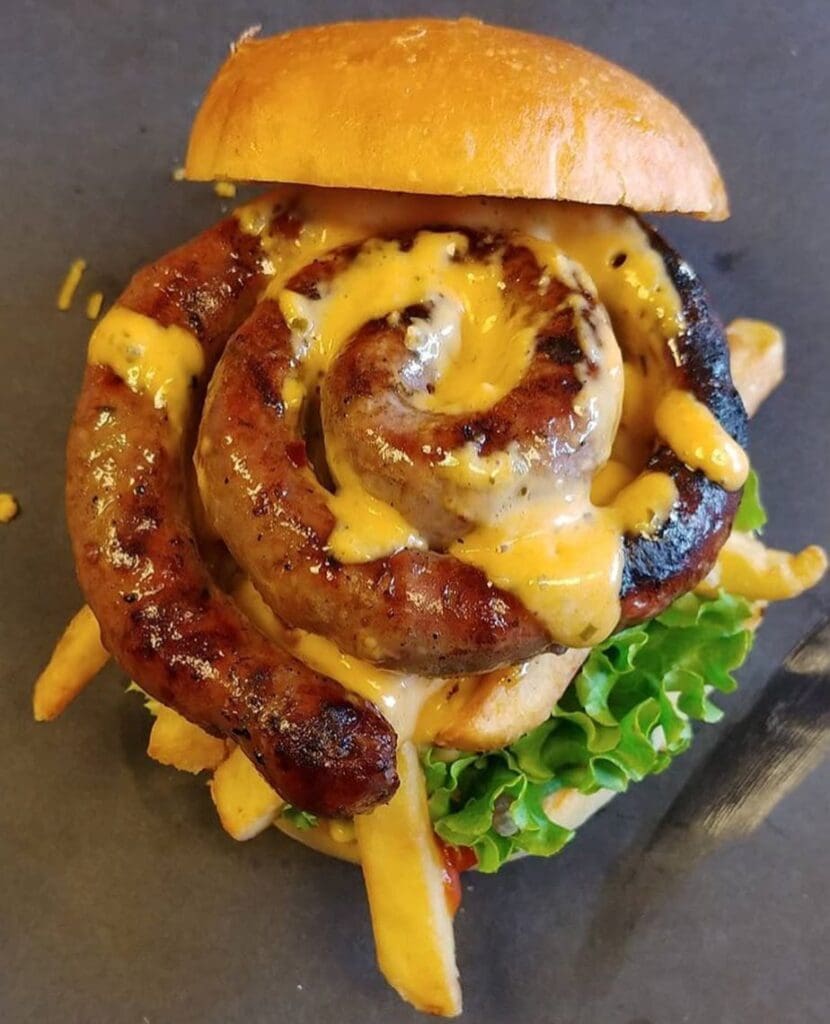 We love it when we can find a diverse range of halal cuisines. We have nothing against Middle Eastern cuisine (as you can see in this list) but, in some places that's the only halal option. Plan B is a perfect example of something a bit different.
Plan B specialise in South African dishes such as braii food and boerewors. All their meat and poultry is halal and their menu is extensive. If you're after lekker food, you need to visit.
We'd recommend:
1. Boerewors Poutine – Sausage and poutine are a match made in heaven imho
2. Smoky BBQ Braii Wings – Chicken cooked as it should be, on a braii
3. Mixed Braii Platters – all the delicious meats including boerewors, lamb, chicken and steak
Location: West At Grenview Blvd South East Side, 2943A Bloor St, Toronto, ON M8X 1B8
Website: planbhandmadeburgersboereworsandbraii.com
Instagram: @plan.b.burgers.boerwors.braii
9. Planta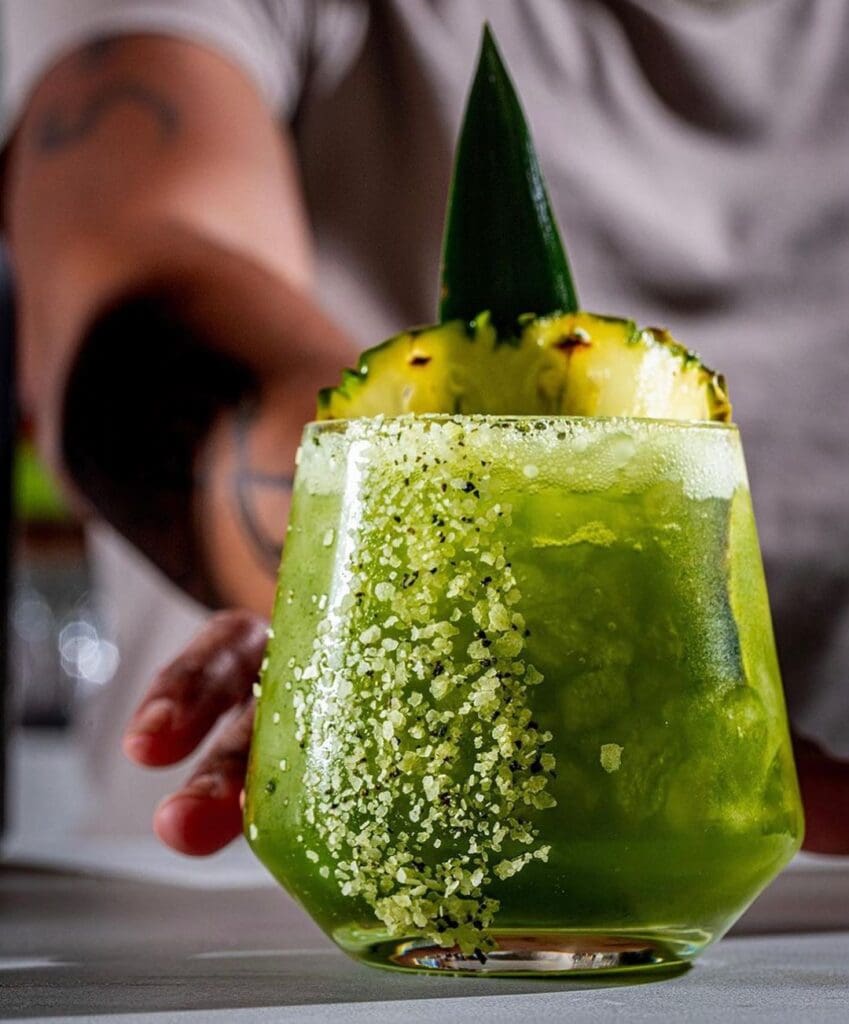 Okay, this might be a cheeky addition as it's a plant-based restaurant (so it kind of auto-enrols as halal). Yet, their food looks so good and guarantees to please even the hardcore meat lovers.
We think their food looks pretty and their menu makes us excited. Here are our picks of the best:
1. Ahi Watermelon Nigiri – Watermelon works just as well as tuna in this stunning dish
2. Dan Dan Noodles – Instead of beef they use Kamut
3. Avocado Lime Tartare – Beetroot tuna, pine nuts, capers, citrus soy, sesame, cilantro, taro chips WOW
Location: Two locations – Queen St and Yorkville
Website: plantarestaurants.com
Instagram: @planta
10. Bar Reyna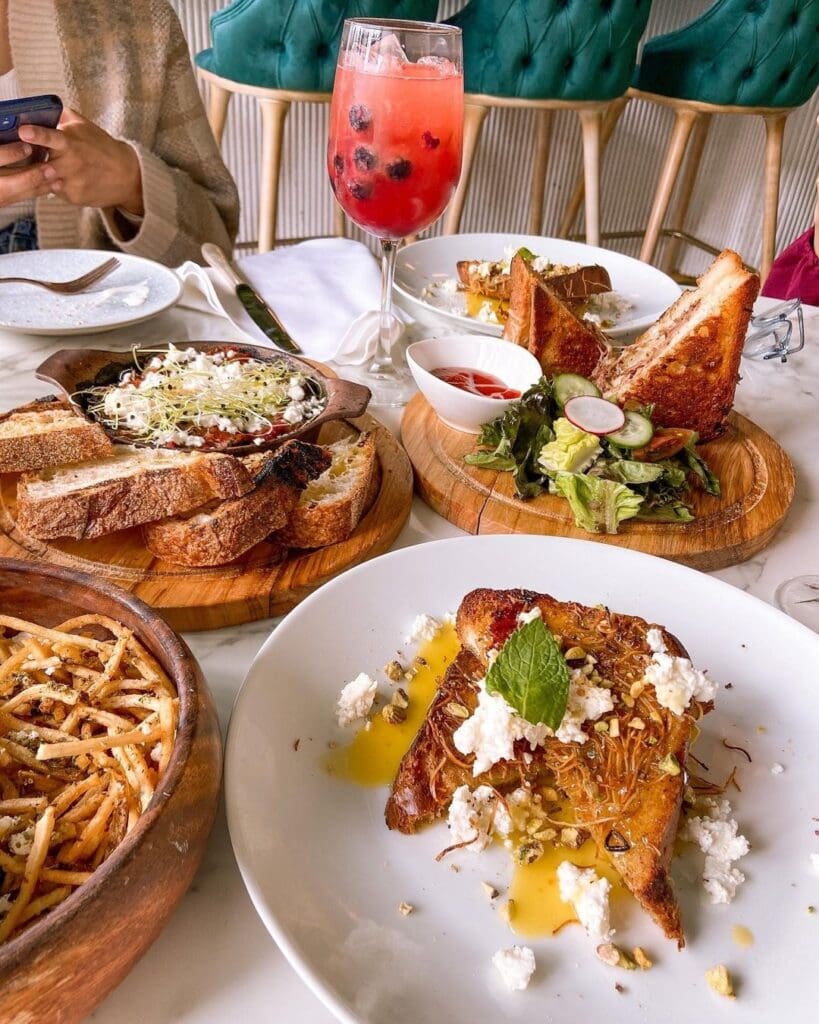 We love brunch. So much so that we had to give Bar Reyna a shoutout. It's worth mentioning this joint is also a cocktail bar so, if you want to avoid alcohol, this place isn't ideal.
All of Bar Reyna's meat is halal and there are some lovely brunchy goodies to choose from including:
1. Baklava French Toast – Baklava-crusted challah bread with orange blossom, ricotta and candied pistachio
2. Short Rib Grilled Cheese – Gruyere cheese with braised short rib and caramelised onion oh boy
3. Lamb Shank Benny – Cauliflower rice, flatbread, pulled lamb shank with a lamb jus hollandaise sauce
Location: 158 Cumberland Street, Toronto, ON M5R 1A8
Website: barreyna.com
Instagram: @reynatoronto
Anything missing?
Look, this whole article was written by one person – Joe. We're only human at Taste: TO, we occasionally miss stuff or get things wrong. We'd be happy to change mistakes so, if you spot one, let us know.
If you own a banging halal restaurant that needs to be featured, get in touch too and we'll do our best to include you. We're serious foodies here so our standards are high. That doesn't mean we're not open to more additions though.