If you're looking for an incredible street food experience in India then Jaipur in Rajasthan is a great option.
Also known as the "Pink City", Jaipur is full of incredible architecture with the dominant colour being beautifully pink buildings!
As you travel the city enjoy the architecture and the sights, you will be welcomed by thousands of local street food stands serving traditional Indian dishes and local specialities from Rajasthan and Jaipur specifically.
Almost 90% of the population of Jaipur are Hindu, therefore you will find that the vast majority of the food in the city is vegetarian. However, if you are a meat eater do not let that put you off. Jaipur street food can satisfy even the most carnivorous folks! As you'll discover below, there is no shortage of satisfying protein to fuel your Indian adventures!
The Food Ranger (aka Trevor James) in Jaipur
The Food Ranger is one of my favourite food & travel shows on YouTube and for good reason! He travels the world extensively looking for some of the best street food the world has to offer.
Trevor James travels to Jaipur in India and showcases some of the very best dishes that the city has to offer.
Check out the video for more as well as my summary of the very best street food that Jaipur has to offer according to The Food Ranger below:
Omelettes (Masala Sandwich & Pizza Omelet!)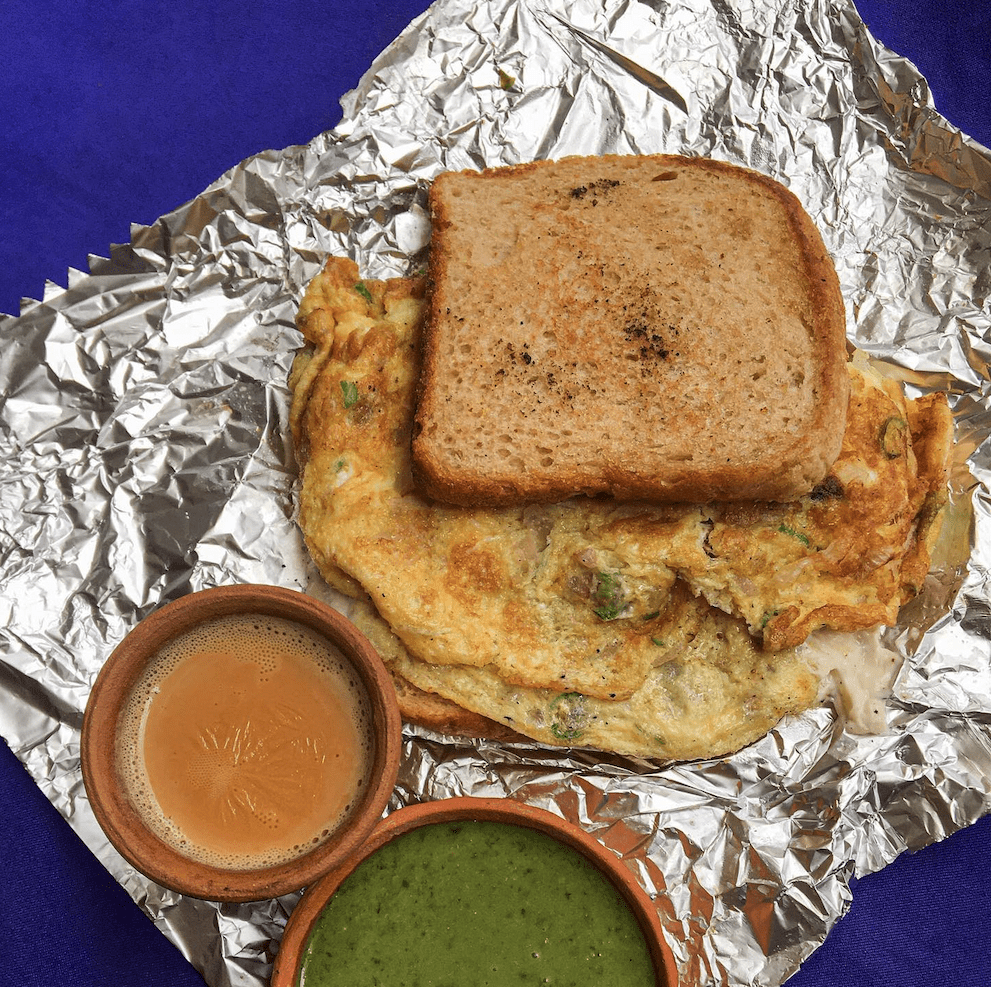 Given that Jaipur has a predominantly vegetarian population eggs are a fantastic and popular protein source. You can find lots of incredible restaurants and street food vendors serving all sorts of amazing egg dishes – including omelettes!
Trevor James (aka The Food Ranger) recommends Sanjay Restaurant as a fantastic spot to grab an omelette – with a LOT of choices available.
In fact, Sanjay Restaurant boasts a menu with over 100 different types of omelette. There is literally something to suit every taste!
Sanjay Restaurant was founded by Sanjay Sharma, a participant in the Indian version of Masterchef – so you already know that the standard is going to be extremely high!
There are two stand-out dishes available at Sanjay Restaurant that you have got to try:
Masala Omelet Sandwich
This is a deliciously thick and fluffy omelette stuffed with chilli and spices. It's cooked in a seriously generous amount of butter before their famous chutney (which is made from red chilli and garlic) and then two slices of thick and fluffy bread are added to sandwich the omelette and soak up the rest of that butter!
This dish is pure heaven and delivers a beautifully garlicky flavour with that saturated buttery bread.
Pizza Omelet
Similarly to the sandwich, a deliciously thick and fluffy omelette is made and stuffed full of tomatoes, bell peppers, cabbage, and coriander. Before the omelette is fully cooked a pizza base is added to the pan and the base and omelette fuse together. You end up with a beautiful omelette atop a buttery deep-fried pizza crust. This is finished with a stunning-looking and creamy "squeezy cheese" which brings the whole dish together and makes the whole thing even more decadent!
Trevor's recommended spot: Sanjay Restaurant – Egg Dee Janta Store Shopping Centre, University Marg, Bapu Nagar, Jaipur, Rajasthan 302015, India
Masala Chai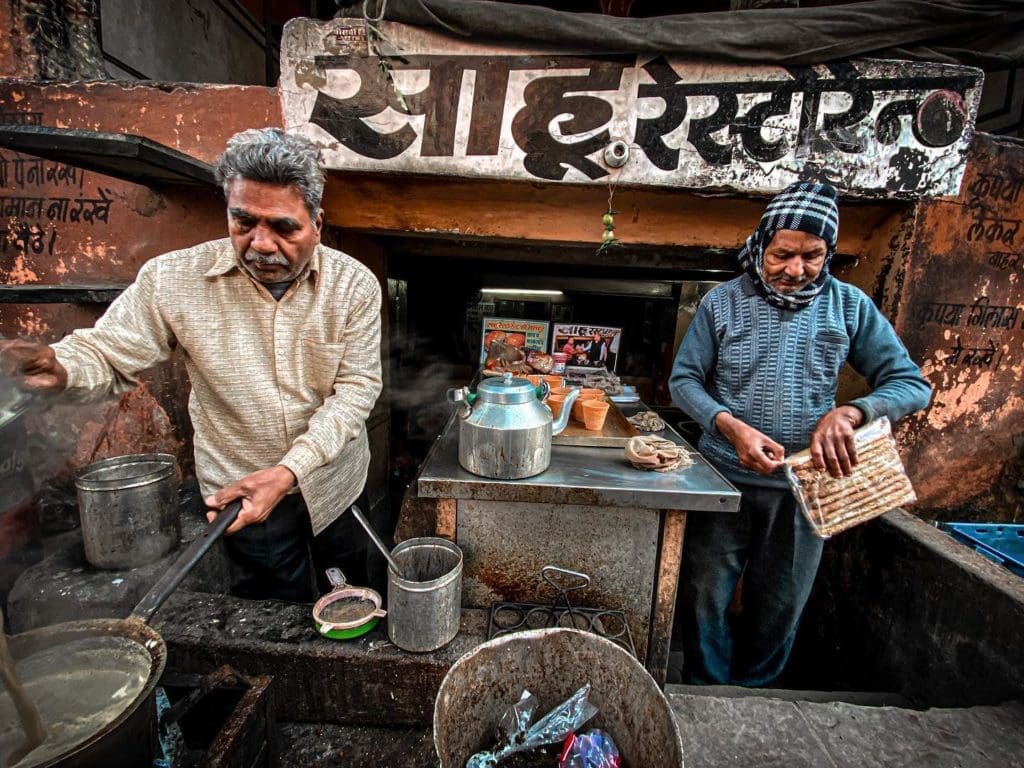 India is famous for its Masala Chai and it is certainly one of the exports that has become extremely popular around the world.
As with every city and town across India, Jaipur has its fair share of Chai shops that have been passed down through generations of "Chai Walas".
In his video, Trevor takes us to Sahu Tea Stall which has been running for over 70 years.
As soon as you see Sahu Tea Stall you understand that it is special. The Chai is brewed in a beautiful copper pot over real glowing charcoal. The chai is beautifully thick as it has no water added, it is pure creamy buffalo milk which is slow-boiled to respect the quality of the milk and really draw out the flavour of the tea and the masala spices.
As with many places across India, the tea is then served in beautiful clay cups (I wish that UK coffee shops served takeaway drinks in clay cups!).
This masala chai has a strong yet sweet cardamom flavour with a rich creamy texture.
Trevor's recommended spot: Sahu Ki Chai, 365, Opposite Sai Baba Temple, Chaura Rasta, Pink City, Jaipur, India
Paneer Tikka & Hariyali Chaap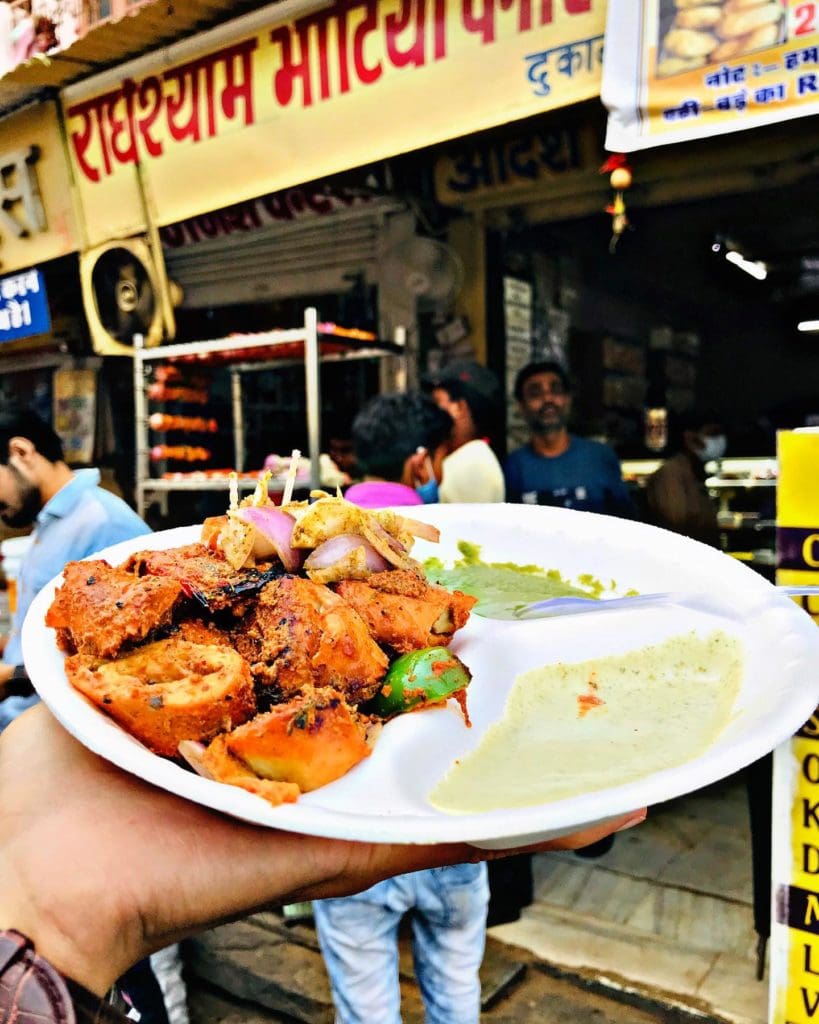 Another popular vegetarian protein is Panner – a semi-hard cottage cheese which takes on flavour beautifully when marinated and holds its shape really beautifully during cooking as well as "Chaap" a soy product similar to tofu.
On the streets of Jaipur, you can find vendors selling incredible skewers of both paneer and chaap – the spot that Trevor recommends offers both.
Paneer Tikka
The paneer tikka is a striking orange colour from the beautiful tandoori spices it is marinaded with. Typically this sort of dish is marinated with a masala that is mixed with yoghurt to give that beautiful thick coating that you come to know and love from "Tikka" and "Tandoori" type dishes.
The skewers are prepared and embellished with a few veggies like green pepper and onion before being carefully cooked over proper charcoal. In this way, they get imparted with a beautiful smokey flavour as well as getting nice and charred in that beautifully uneven manner that cooking over an open fire is so good at!
Hariyali Chaap
The chaap is also a striking colour, this time green from the fresh herbs of mint and coriander that go into the yoghurty marinade as well as the masala spice mix which is unique to the particular street food vendor.
I absolutely love the flavour of hariyali dishes – there's nothing quite like the flavour of super fresh herbs that give such a ZING in your mouth! Super fragrant!
These skewers are also carefully cooked over proper charcoal.
Both dishes are then tossed in melted butter, lemon juice, and a special masala before being served on the street with some beautiful house chutneys.
A stunning vegetarian dish which will satisfy and delight!
Trevor's recommended spot: Radhey Shyam Bhatia Paneer Wale, Shop No. 70, Vidyalaya Marg, Gurunanakpura, Raja Park, Jaipur, Rajasthan 302004, India
Pickles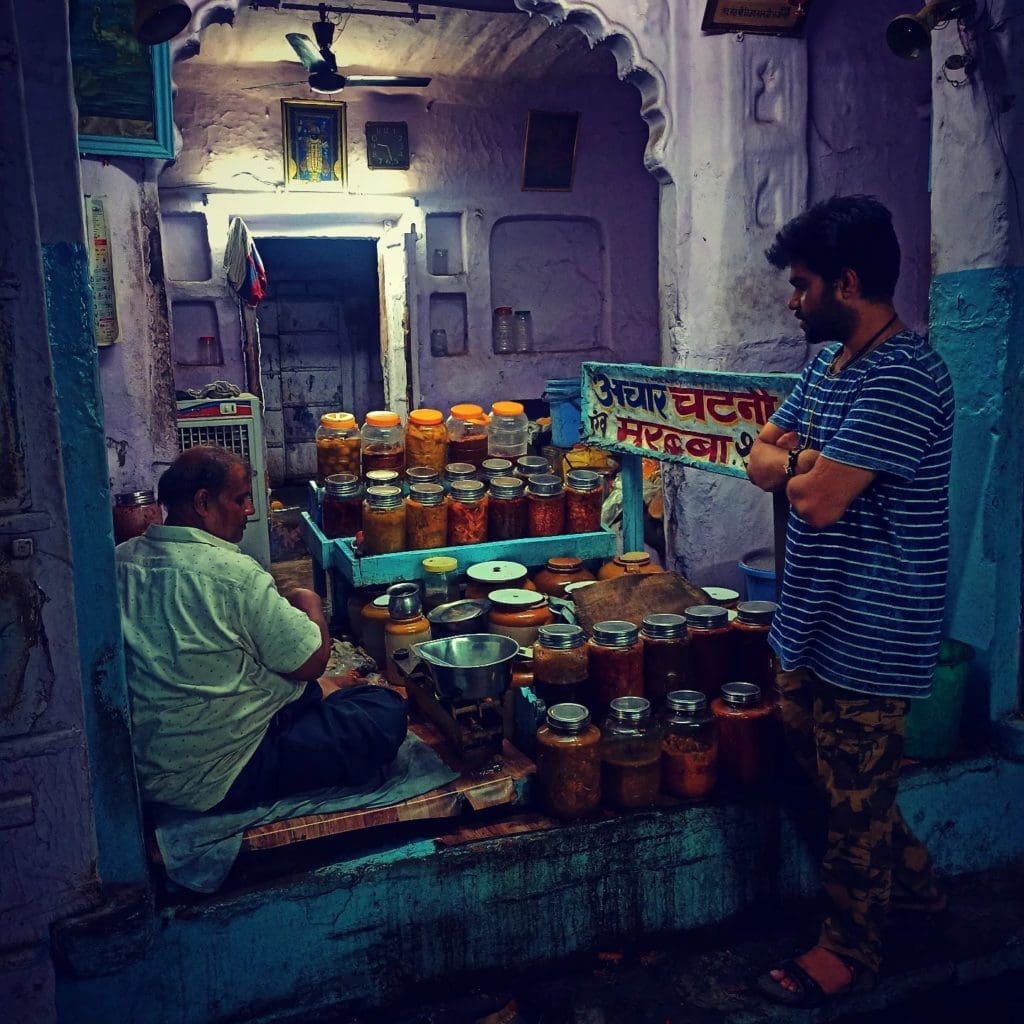 Pickles are a key part of Indian cuisine and are served in some way with most meals.
Trevor James recommends stopping at a 180-year-old pickle shop in Jaipur to taste some of the best and most traditional pickles that Jaipur has to offer.
There are a wide range of pickles available, but the must-try pickles are turmeric, garlic, and mango. These are super popular and delicious as an accompaniment to Indian meals.
As well as their core ingredients, the pickles are made using mustard oil which preserved them and gives them a mustardy fragrant flavour as well as other herbs and spices.
Trevor's recommended spot: Vijaylal Acharwala, 996, Gopal Ji Ka Rasta, Achar Walon Ki Gali, Bapu Bazar, Johari Bazar, Jaipur, Rajasthan 302003, India
Bheja Roti with Aloo Sabzi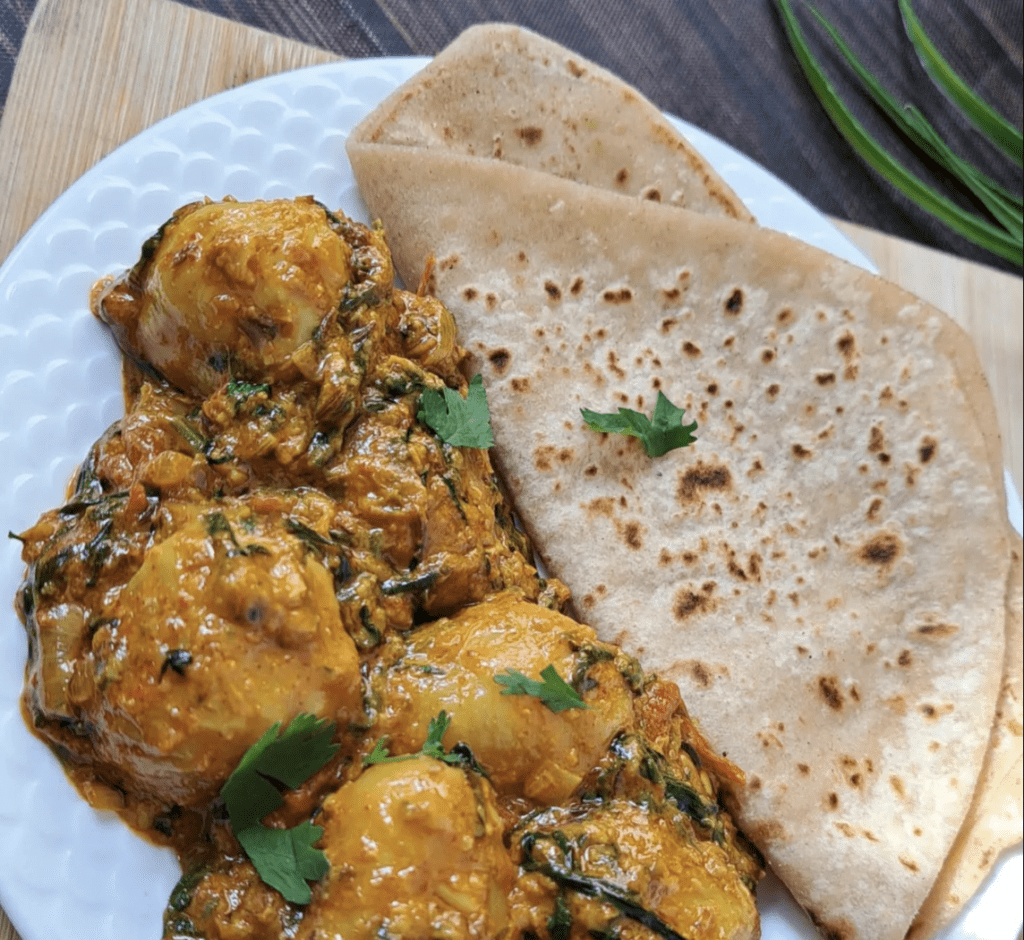 Another fantastic and traditional street food in Rajasthan, Bheja Roti with Aloo Sabzi is going to fill you up and leave you wanting more!
The roti is made with a combination of whole wheat and am flour as well as a generous amount of ghee. The dough is rolled out and cooked over fire right on the street giving you a smoky flavourful and satisfying bread to go with your Aloo Sabzi.
The aloo sabzi is a delicious potato curry which has green chilli and can sometimes also include who onions and paneer.
This is all served up, of course, with some house chutney right on the street for you to enjoy as you watch the world go by in Jaipur!
Rajasthani Thali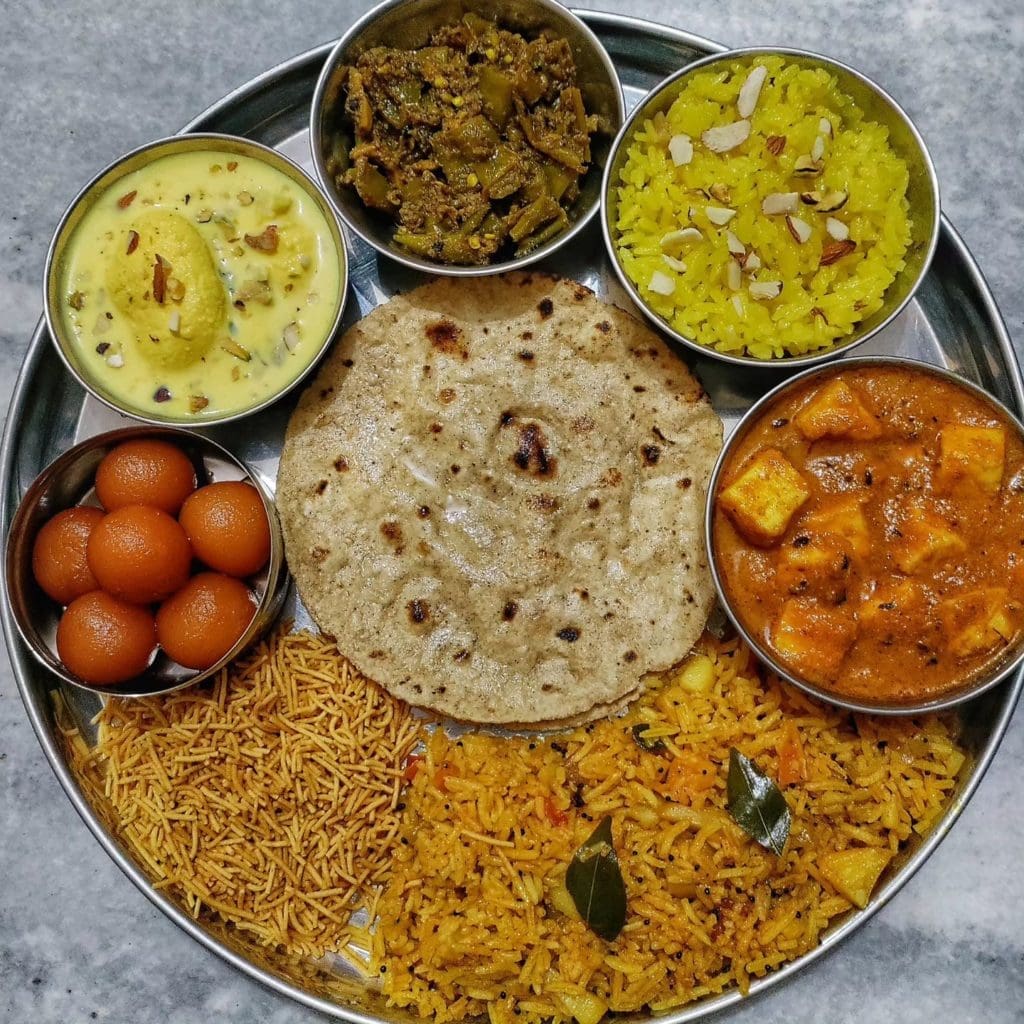 If you want to taste as many local dishes as possible in an area then going to a Thali restaurant is an incredible way to have a small taste of everything that the region has to offer.
More often than not in these thali joints you get a large plate with breads and rice and many small dishes of curries, chutneys, and sweets to taste. Many of these restaurants also offer unlimited refills – perfect if you're a hungry traveller!
In The Food Ranger video, Trevor enjoyed all sorts of local delicacies including spinach kofta, gatta curry, kadhi, dal, papadum, chutneys, porridge, jalebi, and more!
Missing Anything?
Are you a Jaipur local or someone who has travelled to Jaipur? Is your favourite dish or street food vendor missing from this list? If so, please get in touch – we'd love to hear from you!