Exeter is probably one of our favourite cities. It's got a lovely chill vibe with tonnes of history and a really decent foodie scene. Exeter is also the perfect place to be if you're in the market for a bottomless brunch. As a university city, Food and booze are two very important factors and, you'll be pleased to read, that Exeter isn't in short supply.
For the uninitiated, a bottomless brunch is a meal in a restaurant (typically brunch – duh) that includes unlimited or, 'bottomless' drinks as part of the event. A bottomless brunch can last anywhere between 1 and 2 hours (although this varies from place to place). Typically you must book in advance so, with all of our recommendations, we'd advise you to check in advance if you need to book.
Our Top Picks for a Bottomless Brunch in Exeter
We've written this first and foremost as foodies. Our ambition here is to showcase some of the best foodie spots offering a bottomless brunch. We appreciate that, for some readers, you're really just after a good value-for-money solution to catching up with friends and the quality of the food comes second.
The Terrace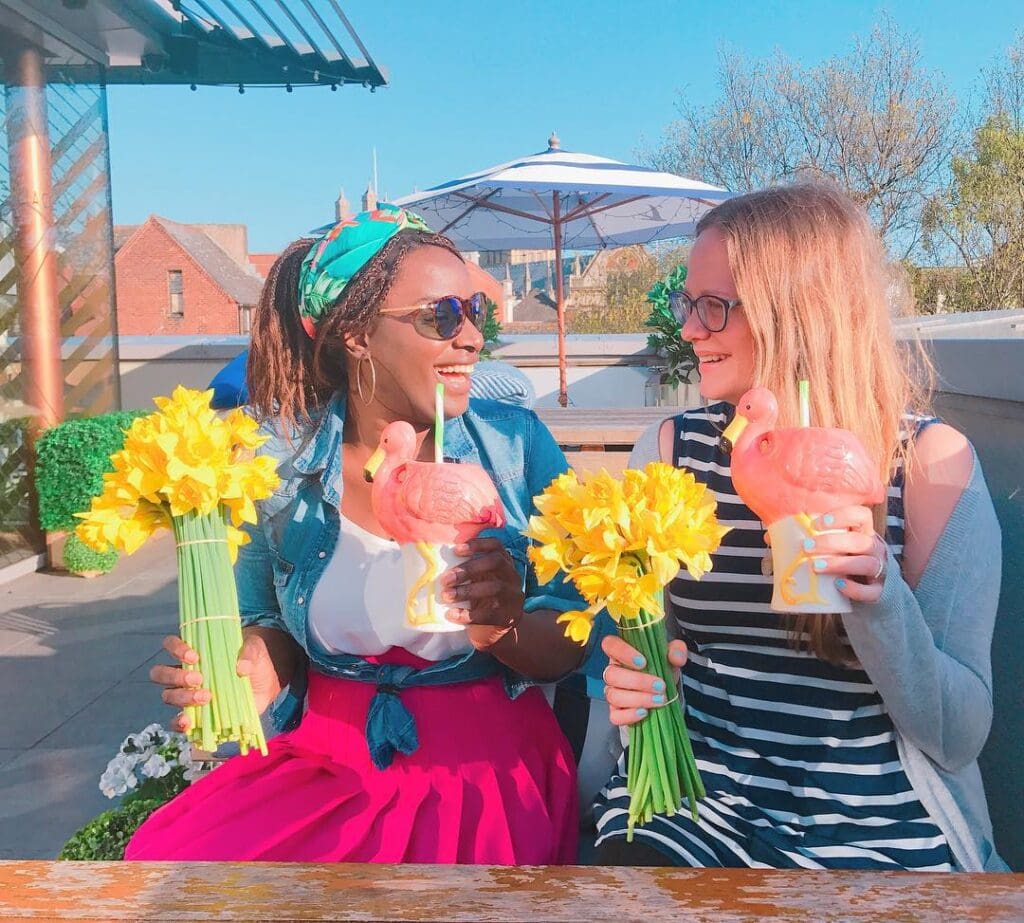 Saturdays are bottomless brunch days at (arguably) Exeter's trendiest joint. This glorious rooftop terrace bar is nestled away at the heart of Exeter's foodie scene on Queen Street. Each Saturday's bottomless brunch session is themed differently and they have a full calendar of events over at their website.
Sessions at the Terrace last for 3 hours (2 of which are bottomless brunch). When you arrive there's a bottle of bubbly for your table. As soon as it's finished you turn it upside down in the bucket and choose your next drink from a wide range of cocktails, beers and mocktails. The food here is perfection. You'll get to choose a dish from a great menu including things like poached egg muffins, bacon avocado and sourdough and maple pancakes.
Cost: £29.95 per person
Location: The Terrace, Unit 19, Higher Market, Guildhall, Queen Street, Exeter, EX4 3FB
When: Every Saturday at 1pm (12:30pm in December)
Boom Battle Bar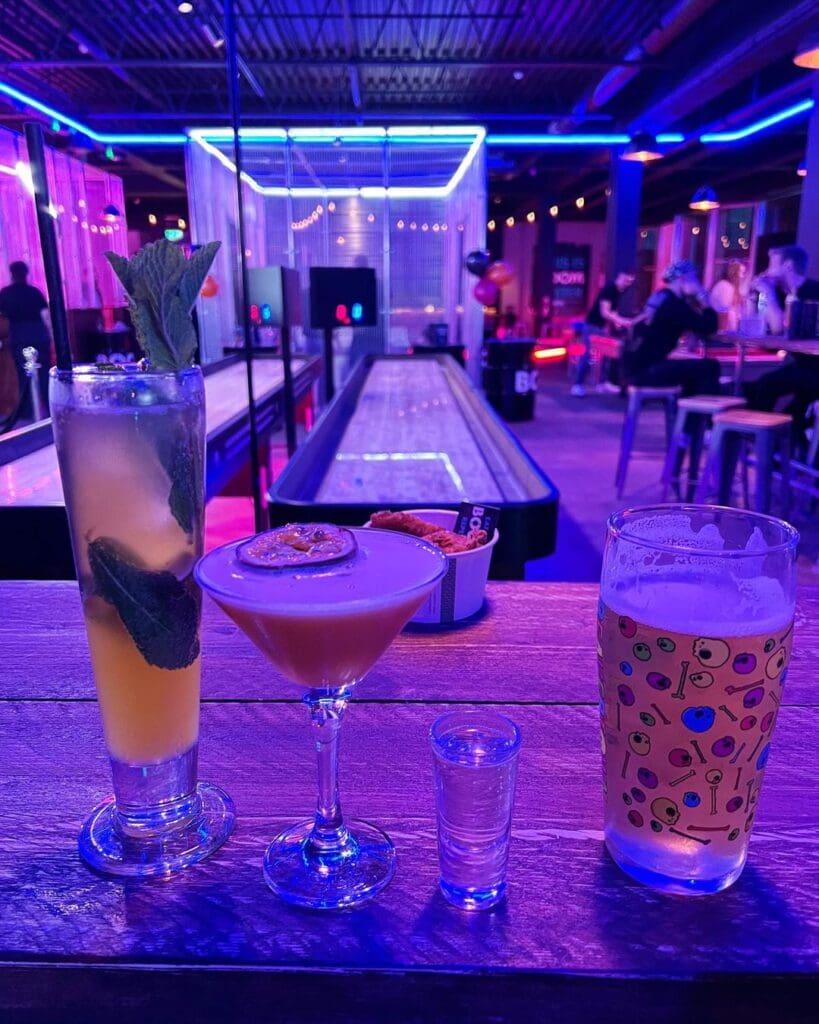 This one's a bit different! Not only are you going to be filling up on unlimited booze and amazing food but, you'll also get the craziest version of crazy golf thrown in. This is for friends catching up over brunch and then wanting to have a bit of fun afterwards (yep, they let you on the course after you're booze-fuelled brunch).
You'll get 90 glorious minutes to enjoy your brunch and you can order a range of cocktails, mocktails bubbles and beers. Food-wise, it's a street food vibe. Each person can choose an item from the brunch menu and then you get a loaded fries-style option for every 2 people on your table. It's definitely filling and the food is stunning (but think dirty fries rather than fine dining).
Cost: £40 per person
Location: Boom Battle Bar, Unit 24 and 28, Guildhall Shopping Centre, Exeter EX4 3HP
When: Mon-Sunday on 2 sittings: 2pm or 4pm
Underground Exeter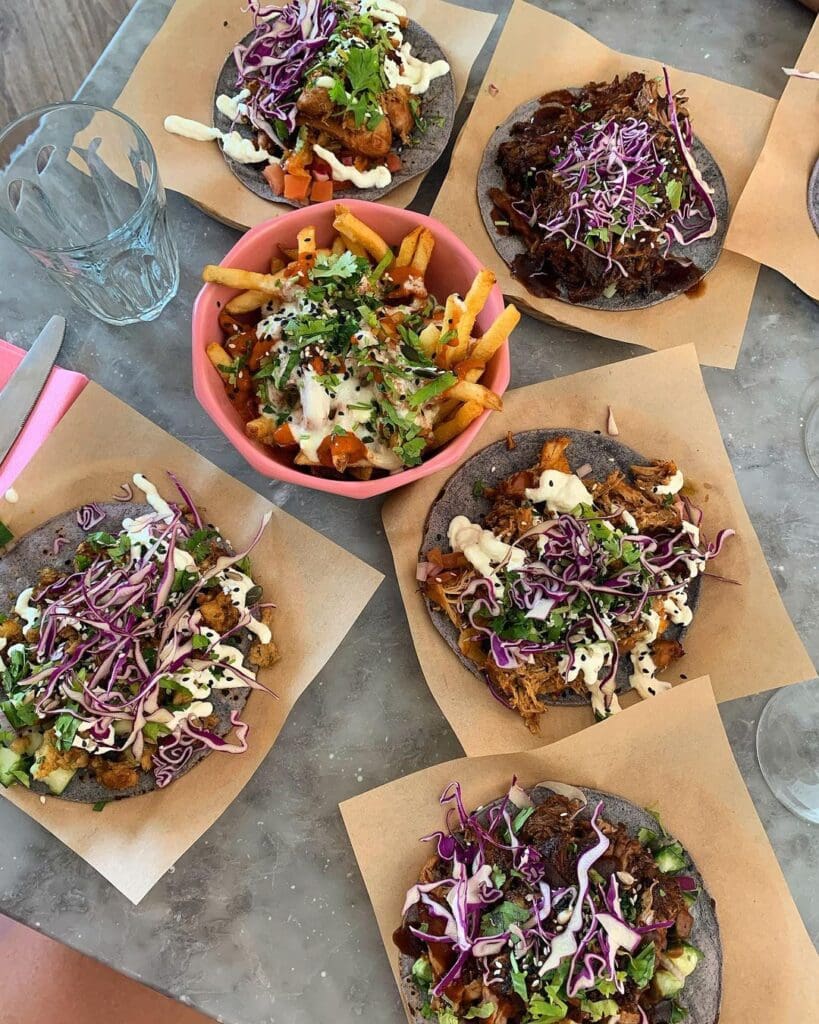 If you're local to Exeter, we're willing to bet you'll still call Underground Exeter the Pink Moon. It's just how we know it to be! However, Pink Moon is no more. Underground Exeter looks like a trendy unassuming cafe until you dig below the surface and realise it's also a nightclub complete with an underground dance floor.
The menu features some incredible treats including fancy mac n' cheese, buttermilk chicken burgers (and a seitan version too), mezze and salads. You can choose between prosecco and cocktails or go for mocktails instead. You get a full 90 minutes to enjoy your bottomless brunch at Underground Exeter.
Cost: £40.95 per person (or £29.95 if ordering mocktails)
Location: Underground Exeter, 44 Queen St, Exeter EX4 3SR, UK
When: Every Saturday with sessions starting at 1pm, 4:30pm, or 8pm
Coolings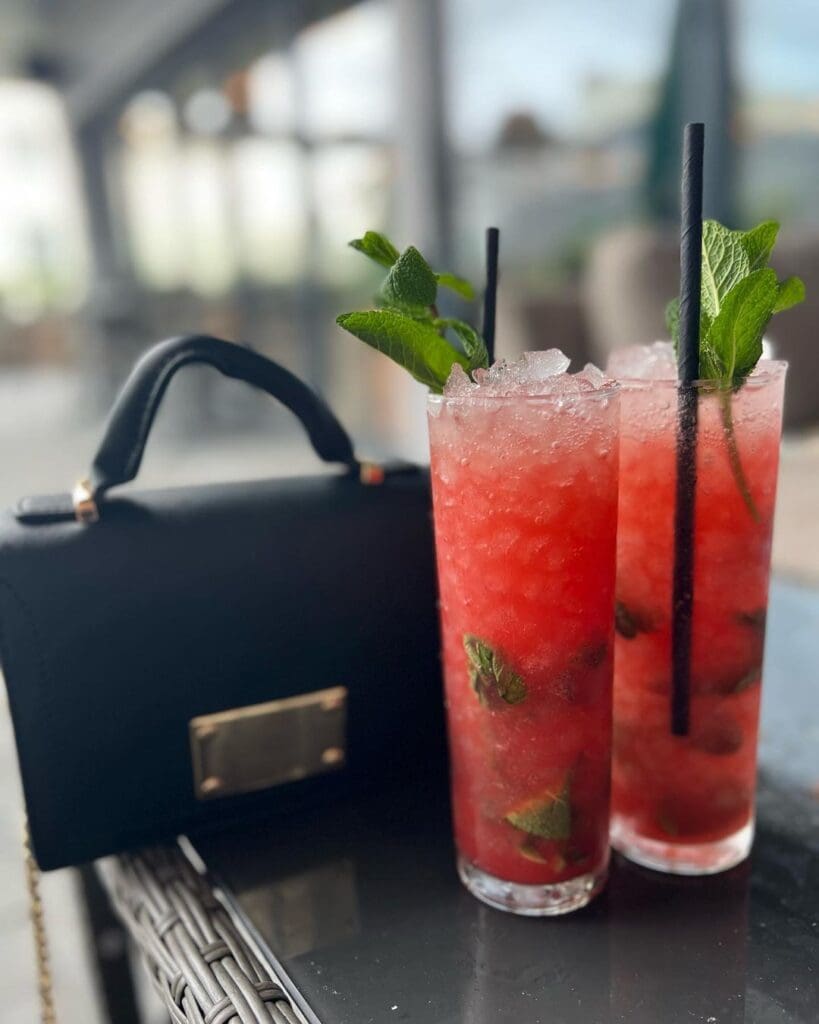 Coolings gets to boast the coolest location on our list. This trendy underground cellar bar sits on Gandy Street, a quirky, narrow street in Exeter said to be the inspiration for Diagon Alley in Harry Potter! This place is super popular with students.
Coolings has a menu that changes year round however, typically you can expect to see things like nachos, dogs and pizzas year round. The drink menu is extensive, to say the least, and you can go bottomless on anything from prosecco to beer. Their slush cocktail is a personal favourite of ours. You get a generous 2 hours to enjoy your bottomless brunch.
Cost: £39 per person
Location: Coolings, 11 Gandy Street, Exeter, Devon, EX4 3LS
When: Monday-Wednesday 3pm-8pm, Thursday-Saturday 12pm-8pm, Sunday 3pm-8pm
Anything Missing?
We're not perfect (sad face). Occasionally we make mistakes and get things wrong. If you spot anything that you don't think is quite right, please let us know and we'll happily change things. Equally, if there's a venue we've missed that you feel must be included, let us know. We haven't covered everywhere in Exeter that serves bottomless brunch intentionally though, this guide is for foodies. There are a few places we've missed out that don't quite live up to the foodie level.